B-2 bomber make rounds in Pacific ahead of Trump's visit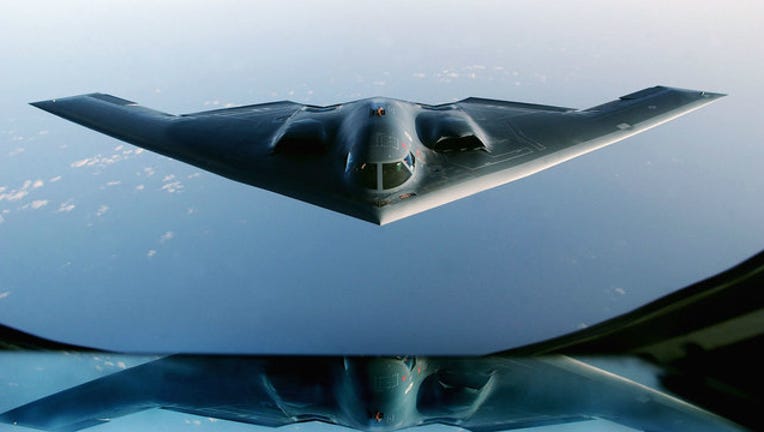 article
(FoxNews.com) - A B-2 stealth bomber equipped with nuclear strike capabilities flew over undisclosed parts of the Pacific region this weekend ahead of President Trump's visit to Japan and South Korea, reports said.
The bomber made rounds to "familiarize aircrew with air bases and operations in different geographic combatant commands, enabling them to maintain a high state of readiness and proficiency," a U.S. military statement read.
The statement also said the mission was intended as "a visible demonstration of commitment to our allies and enhancing regional security," the Japan Times reported.
B-2 bomber, with its large operating range and ability to refuel in the air, is likely a top choice in the event of a U.S. nuclear attack on North Korea.
The B-2 bomber's mission came at the time Trump is set to meet leaders of South Korea and Japan starting November 5 amid the increasing tensions with the North Korean communist regime.
Pentagon chief Jim Mattis, who is currently visiting allies in the region, reiterated on Sunday unequivocal opposition to North Korea as a nuclear power. "I cannot imagine a condition under which the United States would accept North Korea as a nuclear power," he said in South Korea, according to 9News.com.au.
South Korea's Yonhap news agency reported Sunday that the South Korean regime nodded to its intent to suggest offering maintenance support for U.S. strategic military assets deployed in the country with the hope that "the U.S. will expand its missions on the Korean Peninsula without any concerns over issues of maintenance, fuel supplies and so forth."
Earlier this month, B-1B bombers were deployed from Guam during military exercises with the South Korean Air Force in the wake of rising tensions. Pyongyang said they will shoot down any U.S. bombers violating the air space.
North Korea also reportedly spent the weekend preparing for a war, conducting evacuation and black out drills across the country, NK News reported.
Chun In-bum, a retired South Korean lieutenant general, told NK News that "I have never heard of this type of training exercises before in North Korea, but am not surprised," adding that "They must realize how serious the situation is."
More on FoxNews.com.