Watch: Bald Eagle rescued from floating ice in Waukegan Harbor
WILLOWBROOK, Ill. - A Bald Eagle was rescued Sunday from a piece of floating ice in Waukegan Harbor, and the incident was captured on video.
According to the Willowbrook Wildlife Center, the eagle is likely around three years old based on the amount of white feathers on its head.
On New Year's Day, the eagle was seen floating on a piece of ice in the harbor. When approached by Jim Tibensky of the Chicago Bird Collision Monitors, the eagle was quiet, wet and did not fly away like other nearby birds when interacted with.
"It looked so awful when I got it. It was wet, it was bedraggled, it was somewhat fluffed up, and it didn't even make eye contact," Tibensky said.
Using some quick thinking and a kayak, Tibensky was able to break a small piece of the ice the eagle was standing on and push it to shore where someone with a net captured the bird.
"This is the first time I've ever been involved in capturing a Bald Eagle," Tibensky said.
The eagle was then transferred to a warm car and taken to the Willowbrook Wildlife Center in Glen Ellyn.
SUBSCRIBE TO FOX 32 CHICAGO ON YOUTUBE
According to staff, the bird was more alert once it arrived at the clinic. It was also much easier to handle than normal for the species. They say eagles are usually "quite feisty."
An exam revealed the eagle was thin, wet and disheveled. The clinic was concerned the bird suffered lead exposure, but the animal did not test high enough to be treated for it — although he did still test positive.
Blood work on the eagle revealed moderate anemia with a delayed clotting time, according to the clinic.
Veterinarians think the bird ate a rodent that had ingested rat poison.
"Thankfully no fractures were found, minimal lead was found in its body, so basically now we're just treating that poor body condition and red blood cell issues," said head veterinarian Dr. Sarah Reich.
For treatment, the bird was given various fluids, anti-inflammatories, antimicrobials, and vitamins. The eagle was also put in a heated cage overnight.
On Monday, the clinic said you could tell the bird was feeling much better.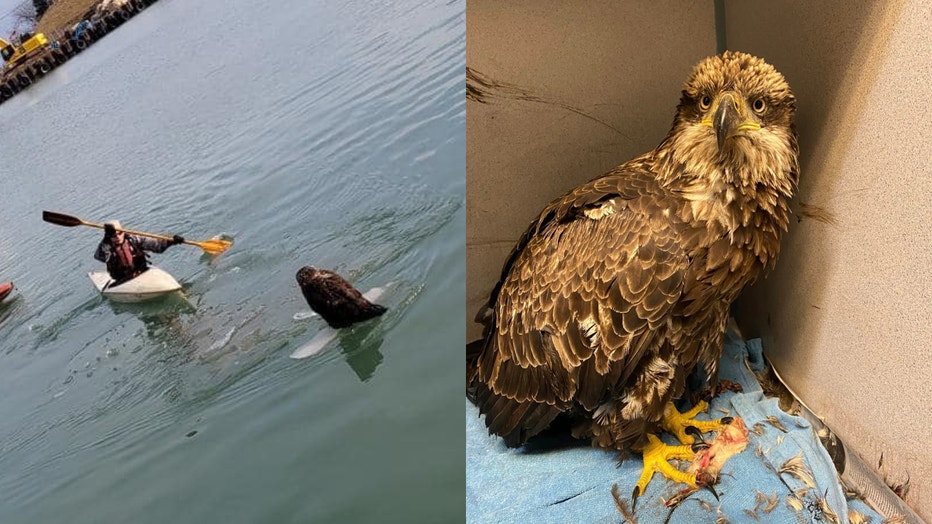 Bald Eagle rescued from Waukegan Harbor on Jan. 1, 2023 | Willowbrook Wildlife Center
"Bald eagles are actually quite common in this area. Illinois has one of the highest breeding populations of eagles in the country," said Dr. Reich.
The experience left an impression on Tibensky. So much so, he couldn't help but flock to the center this morning to check on his new friend.
"It's moving around, it's making eye contact, it's really nice, it's very gratifying," he said.