Brookfield Zoo introduces 2-year-old Asha, a confident and curious reticulated giraffe
CHICAGO - One of Brookfield Zoo's newest residents, 2-year-old Asha, made her highly anticipated public debut on Friday at the zoo's Habitat Africa exhibit.
Asha arrived at the zoo on May 6th and zookeepers have been carefully acclimating her to her new home behind the scenes.
Described as confident and curious, Asha has been getting along well with the rest of the zoo's giraffe herd.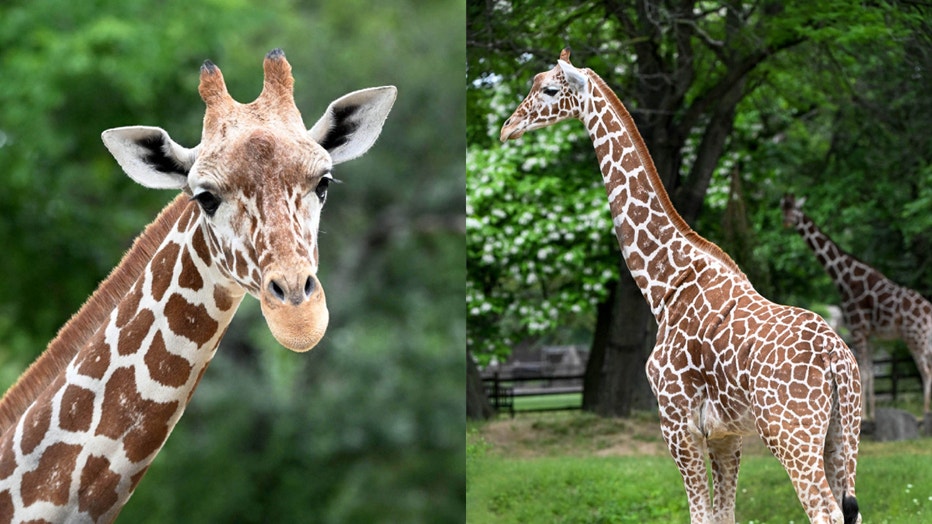 Asha, a 2-year-old reticulated giraffe recently arrived at Brookfield Zoo. She can be seen in the outdoor area at Habitat Africa! The Savannah with other members of the giraffe herd | Jim Schulz/CZS-Brookfield Zoo
The zoo says after careful consideration, it has been determined that Asha is a suitable genetic match for Ato, the breeding male at the zoo. Once Asha reaches sexual maturity, she will be paired with him for breeding purposes.
SUBSCRIBE TO FOX 32 CHICAGO ON YOUTUBE
The reticulated giraffe, an iconic species native to Africa, is known for its impressive height. With males reaching heights of 17 to 19 feet and females slightly shorter, it holds the title of the tallest land mammal.