Buffalo Grove High School's cheer team wins state: 'tears of joy'
BUFFALO GROVE, Ill. - A northwest suburban high school's cheer team won state over the weekend for the fourth time in the school's history.
The IHSA state championship was held in downstate Bloomington, and Buffalo Grove High School came out on top.
The cheer team had football athletes join their ranks this year, helping to propel the team to number one.
"They worked hard all season to perfect new skills to pull off the big win," said Stephanie Kim, Communications Coordinator for High School District 214.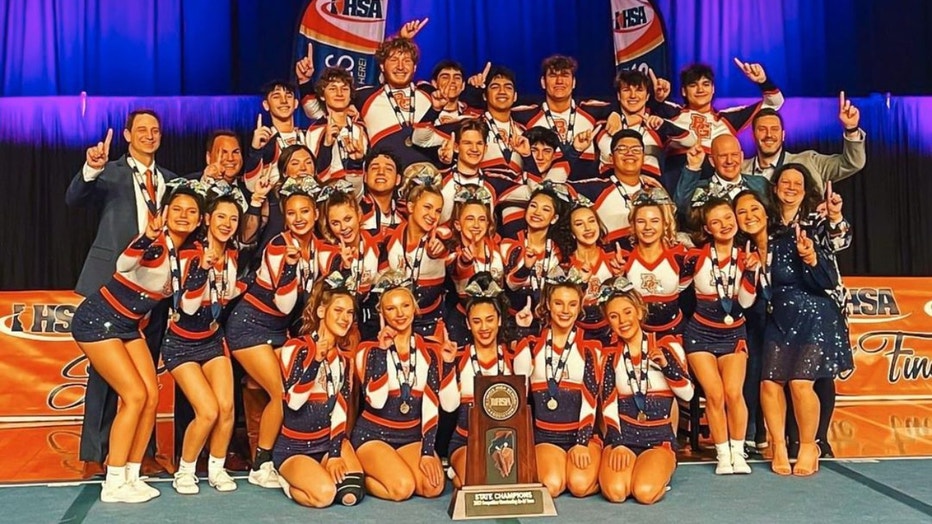 Buffalo Grove High School's cheer team | bg_coed/Instagram
With the win, head cheer coach Jeff Siegal became the most decorated cheer coach in IHSA history. It was his ninth title.
SUBSCRIBE TO FOX 32 CHICAGO ON YOUTUBE
"It's so surreal. You sat there and you hear your name called off, and you're like, did this really just happen? And just what a great feeling. And to watch the smiles on the kids' faces and their tears of joy, nothing can express how great that is to see that out of children. And that's who you do it for," Siegal said.
A special school assembly was held Monday morning to celebrate the state title.
Jack Cadre is a senior at Buffalo Grove High School. He was asked why he joined the cheer team when he's a football player.
"I've been asked a million times. I wanted to do something new. I've never done something remotely close to cheer, never thought about it. But I like trying new things, and it went well," he said. "Whatever I try, I can do. And whatever I can do, I can do well."
Sarah Mora is also a senior and part of the championship team.
"I'm incredibly excited. It's almost hard to process," she said. "Winning is insane, and this is the best journey I've been on. And the fact that it ended like this is icing on the cake."
"This team, I've generally never been on a team where every single person is completely committed," Mora added.
While this was the fourth state title for cheerleading, it was the seventh state championship for all sports in Buffalo Grove High School's history.