Trial date set for woman accused of dismembering landlord on NW Side, just months after charges filed
CHICAGO - A summer trial has been scheduled for a woman charged with killing and dismembering her landlord last fall in the Acadia Terrace neighborhood on the Northwest Side.
On Thursday, Cook County Judge Urusla Walowski tentatively scheduled Sandra Kolalou's jury trial for July 17 — just eight months after Kolalou, 36, was charged with the murder of 69-year-old Frances Walker.
The breakneck pace for the first-degree murder case is the result of a demand for a speedy trial that Kolalou's defense attorney filed in February, setting a deadline for prosecutors.
Defense attorney Sean Brown told the Sun-Times his client is innocent and wants to prove it as quickly as possible.
SUBSCRIBE TO FOX 32 ON YOUTUBE
In a motion filed earlier this year, Brown said Kolalou was seen at a birthday party at a hotel in Warrenville when tenants in her building allegedly heard her arguing with Walker.
Police were called to the home multiple times on Oct. 10 by concerned tenants in the building, but the officers repeatedly left when they found nothing incriminating during in their interactions with Kolalou.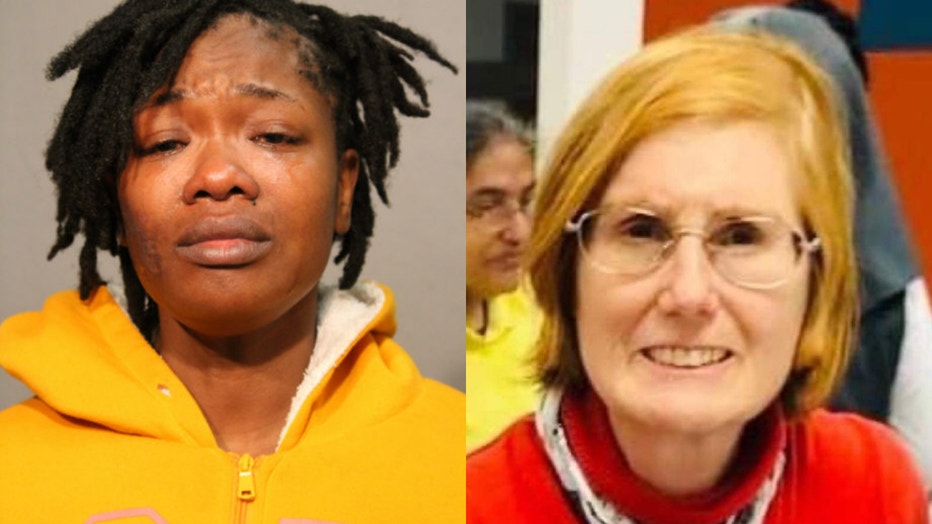 Sandra Kolalou (previous mugshot) and Francis Walker (photo courtesy: Legal Help Firm)
Some of the tenants eventually followed a tow truck driver Kolalou hired to take her to her car that had broken down at Foster Beach, where they allegedly saw Kolalou place a garbage bag in a trash container.
When the tenants looked inside the bag they found bloody rags, prosecutors said.
Kolalou was taken into custody later that night after she allegedly pulled a knife on the tow truck driver when he refused to move her car to another location. Police searched Walker's home and found her head, arms and legs stuffed in a shared kitchen freezer.
An assistant public defender who represented Kolalou at her initial hearing argued prosecutors' case against was "largely circumstantial," noting that DNA testing had not been completed.
Prosecutors are still waiting on some forensic results to be available. At a hearing in April, prosecutors received an extension to gather DNA evidence .
The July date was set on Thursday on the assumption lab results could be available by then, Brown said.
"We're ready," Brown said after the hearing, but added, "Prosecutors may not be."