Attorney for woman accused of killing, dismembering landlord demands trial, says client was framed
CHICAGO - A woman accused of killing and dismembering her landlord last fall at her Northwest Side apartment building could be going to trial in under a year — a breakneck pace for a murder case at the Leighton Criminal Courthouse.
Sandra Kolalou faces murder and other charges after Chicago police searched a home where she rented a room in October and found 69-year-old Frances Walker's head, arms and legs stuffed inside a kitchen freezer, officials said.
Kolalou's attorney, Sean Brown, demanded her right to a speedy trial during a hearing Tuesday after a Cook County judge denied his motion to set a bail for Kolalou while the case progresses.
After the hearing, Brown said Kolalou, 36, is innocent and wants to prove it quickly.
A demand for trial restarts a countdown where prosecutors must be ready to present their case within 120 days from when a defendant is placed in custody — which Brown said he believes would result in the state having to bring their case against Kolalou before the end of April.
SUBSCRIBE TO FOX 32 ON YOUTUBE
Lengthy delays in cases going to trial are common at the courthouse, particularly in complex cases, but generally result from defense attorneys taking time to conduct their own investigations, consult experts they may seek to put on the stand at trial and file motions picking apart the prosecution's case.
Multiple witnesses would be expected to testify at Kolalou's trial, as well as investigators and forensic experts taking the stand.
Kolalou is due back in court next month, when Judge Ursula Walowski said they would begin discussing a trial date.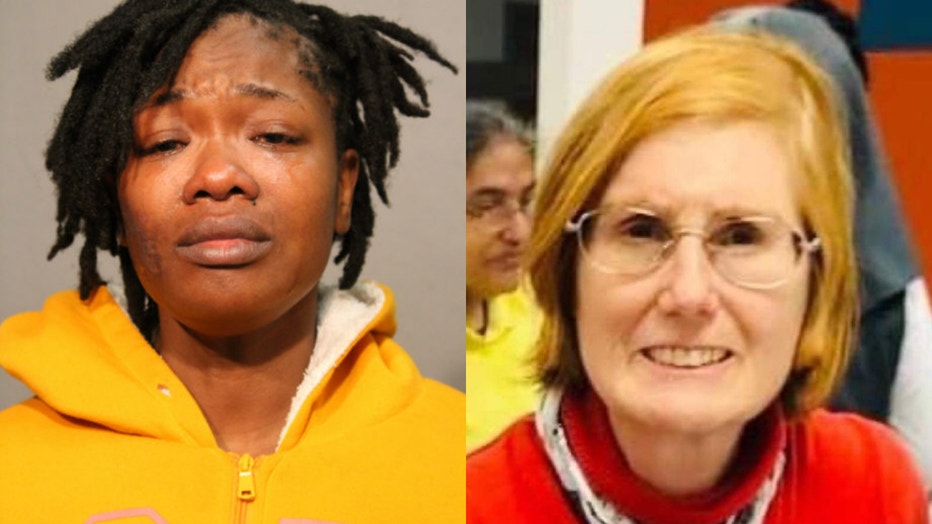 Sandra Kolalou (previous mugshot) and Francis Walker (photo courtesy: Legal Help Firm)
Brown's motion to set bail could provide a preview of the defense Kolalou will claim at trial.
In the filing, the attorney claimed that newly discovered evidence contradicted prosecutors' allegations against Kolalou and suggested she may have been framed by another tenant in the building for the crime.
Prosecutors alleged that shortly before Walker was last seen, she was heard arguing with Kolalou about being served an eviction notice. Brown says that was impossible because Kolalou was seen on surveillance video attending a birthday party at a hotel in Warrenville at the time the argument allegedly took place.
Police were called to the apartment multiple times by tenants about the welfare of Walker, who shared the unit with Kolalou, but left each time for lack of evidence of a crime.
Tenants in the building were so concerned, prosecutors said, that they later followed Kolalou to Foster Beach after she called a tow truck driver to bring her car from a parking lot there to a mechanic and saw her deposit a garbage bag in a trash container that was later found to contain bloody rags.
Kolalou was arrested after she allegedly threatened the tow truck driver with a knife when he refused to relocate her car after she was denied service by the mechanic and he called out for police, who were close by.
But Brown said the tow truck driver told reporters that "he did not see a knife and assumed she had a knife because he was fearful after receiving information from the tenants and the police that she had possibly harmed Walker."
Brown said in absence of the threat, police had no probable cause to arrest Kolalou.
Walowski said despite Brown pointing out various possible inconsistencies in the state's allegations, a previous judge's decision to deny Kolalou bail would continue to stand.
"I don't find it persuasive," Walowski said.