Chicago man arrested in Tennessee charged with federal firearm offenses, drug trafficking
KNOXVILLE, Tenn. - A Chicago man who is a convicted felon is accused of being in possession of firearms and drug trafficking.
Quintin Lewis, 31, was arrested Thursday in Knoxville, Tennessee.
According to a criminal complaint, law enforcement in Tennessee arrested Lewis after an investigation involving monitoring two recent local "gun shows" and executing a search warrant at a Knoxville area apartment.
At the residence, officers seized 20 firearms, several high-capacity magazines, over $32,000 in US currency, approximately 263 grams of heroin, 62 grams of cocaine, a half-pound of ice methamphetamine, and one pound of marijuana.
DOWNLOAD THE FOX 32 CHICAGO APP FOR BREAKING NEWS ALERTS
Among the weapons seized were a fully automatic Glock pistol and two AR-style rifles, police said.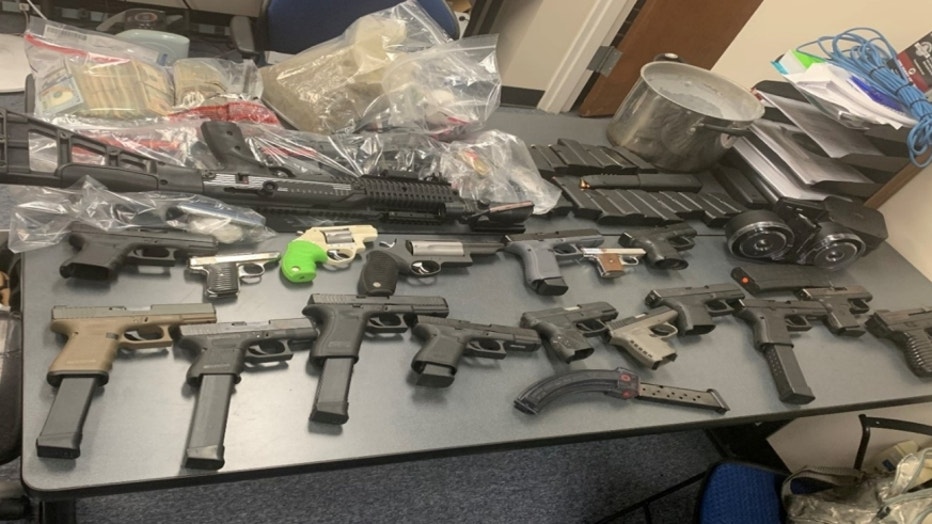 Guns and drugs seized in Tennessee investigation of Quintin Lewis of Chicago | US Department of Justice
Lewis has been charged with being a felon in possession of firearms, possession with intent to distribute narcotics, and possession of firearms in furtherance of drug trafficking.
Lewis pleaded not guilty to all charges Thursday in the United States District Court for the Eastern District of Tennessee.
The investigation was conducted in collaboration with the Knoxville Police Department, the Bureau of Alcohol, Tobacco, Firearms, and Explosives (ATF), and the Drug Enforcement Administration (DEA).