Chicago man charged after allegedly sideswiping CTA bus, pointing gun at driver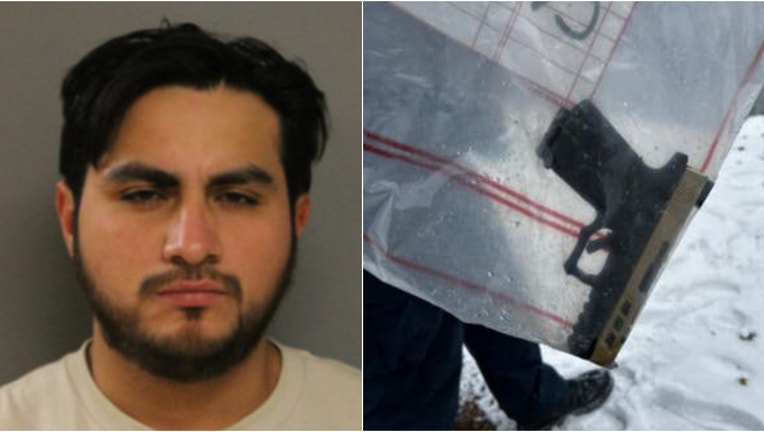 article
CHICAGO - A man is facing charges after allegedly striking a CTA bus with his truck and pointing a gun at the driver Saturday in the Back of the Yards neighborhood.
Leonardo Ruiz, 31, is accused of sideswiping a bus in a Chevrolet Silverado around 11:30 a.m. in the 5100 block of South Ashland Avenue. The bus driver got out to take photos of the damage and the Silverado, and that's when Ruiz allegedly threatened her with a gold and black colored gun.
Ruiz then pointed the gun at another CTA employee who witnessed the crash, according to police.
Responding officers attempted to pull Ruiz over several times before he entered Sherman Park and stopped his vehicle, police said. Ruiz exited the truck as officers repeatedly told him to show his hands, police said.
Ruiz removed his hand from his jacket while he was holding a gold and black semi-automatic handgun, police said. Officers told him to drop the gun several times before Ruiz kelt down and threw the gun into a nearby half-frozen pond, officials said.
SUBSCRIBE TO FOX 32 ON YOUTUBE
He was then taken into custody after both victims identified him as the person who pointed a gun in their direction.
Police recovered one live 9mm round from his truck's center console.
CPD's Marine Unit recovered the gun from the pond.
Ruiz was charged with:
One felony count of unlawful use of a weapon
One felony count of aggravated fleeing
Two misdemeanor counts of aggravated assault of a transit employee
One misdemeanor count of leaving the scene
One misdemeanor count of driving on a suspended license
He is also facing five traffic citations.