Chicago man charged in 'brutal and heinous' rape of woman in Logan Square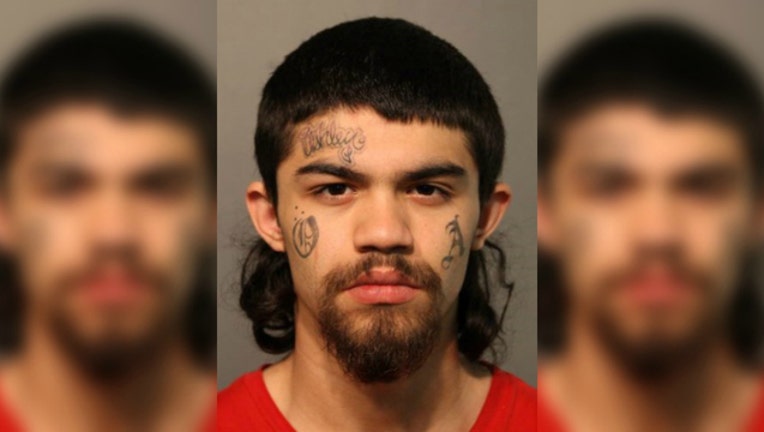 CHICAGO (Sun-Times Media Wire) - An 18-year-old man and his friend allegedly raped and beat a middle-aged woman so severely in the basement of a Logan Square apartment building, her dentures fell out during the attack and she was left with a broken jaw, cuts and bruises, the Chicago Sun-Times is reporting.
The woman was found in a pool of blood ten hours after the sexual assault at the hands of the pair who she had met and played pool with earlier at the Two Way Lounge, according to Cook County prosecutors.
Judge Peggy Chiampas called the April 25 incident "brutal and heinous" and said detectives told her the woman "would never be the same."
"Attack is not even an appropriate word for me to use in this case," a visibly disturbed Chiampas said Friday before ordering Geovannie Collazo held without bond for aggravated criminal sexual assault and attempted first degree murder.
Collazo's alleged cohort has not yet been charged.
The night before the crime, the victim had been drinking beers alone at the bar, at 2928 W. Fullerton, Assistant State's Attorney Marilyn Salas-Wail said.
When the woman went out to smoke, Collazo, who had been playing pool, followed her and asked her for a cigarette, Salas-Wail said.
The woman complied and went back in with Collazo. Soon, she was talking and shooting pool with Collazo and his friend, Salas-Wail said. At one point, Collazo grabbed the woman and kissed her on the neck and chest, Salas-Wail said.
The woman ended up exiting the bar with the men at 1 a.m. But when she crossed Fullerton, she was struck in the back of the head and blacked out, Salas-Wail said.
When she regained consciousness, the woman found herself being dragged into a basement, in the 2600 block of North Spaulding, Salas-Wail said.
Collazo's friend continued to rip off the woman's clothes while Collazo punched her face and head, Salas-Wail said. Collazo then allegedly hit the woman in the face with a metal pipe, repeatedly telling her, "I am going to kill you, bitch."
The force of Collazo's blows were so hard, the woman's dentures fell out onto the floor, Salas-Wail said.
Both men continued to rape the woman and Collazo kept hitting her while she went in and out of consciousness, Salas-Wail said.
The woman, who couldn't open her eyes from the swelling, eventually was able to put her pants on. A resident who found her called 911.
The woman spent eight days at Advocate Illinois Masonic Medical Center where she received surgery for a broken jaw, stitches for a cut on her forehead and treatment for bruising to her face and neck, Salas-Wail said.
A witness at the bar identified Collazo as one of the men socializing with the woman, Salas-Wail said.
His DNA was also found on one of two condom wrappers taken from the scene of the crime and his fingerprint matched one taken from a wine bottle left there, Salas-Wail said.
Surveillance video from the Two Way Lounge also shows the woman talking to Collazo and his friend, playing pool with them and leaving the bar with them, Salas-Wail said.
Cellphone records also show that calls to Collazo's parents were made to and from the woman's phone, Salas-Wail said.
Police did not recover the stolen phone.
Collazo goes to church, works with his father stripping wood, takes online GED classes, and hopes to attend college one day, an assistant public defender said.
Collazo, of the 2700 block of North Sawyer, also intends to get his face tattoos removed, the defense attorney said.
Collazo has an "O" tattoo on his right cheek, an "A" tattoo on his left cheek and the name "Ashley" on the right side of his forehead, according to a police report.