Chicago mayoral election: New poll shows Garcia lose frontrunner status, 2 other candidates in statistical tie
CHICAGO - A new voter opinion survey reported exclusively by FOX 32 Chicago News finds Mayor Lori Lightfoot and Paul Vallas in a statistical tie, with Congressman Chuy Garcia falling from his previous front runner status to third place.
If no candidate receives 50% plus one vote on Feb. 28, the top two finishers compete in a runoff election Apr. 4.
The survey was overseen by Collin Corbett, a Republican political consultant based in suburban Inverness.  Corbett has no ties to any of the nine candidates competing in the first round of voting.
Corbett told FOX 32 Chicago News the Garcia campaign may have thought they could coast into the runoff.
CHICAGO MAYORAL ELECTION CANDIDATES: VOTER GUIDE FOR CITY'S HIGHEST OFFICE
Lightfoot's been attacking Garcia relentlessly in TV commercials and in personal appearances.
In a rhetorical flourish unsupported by any publicly available information, the mayor on Wednesday called Garcia "a Trojan horse dragging his corruption" to city hall.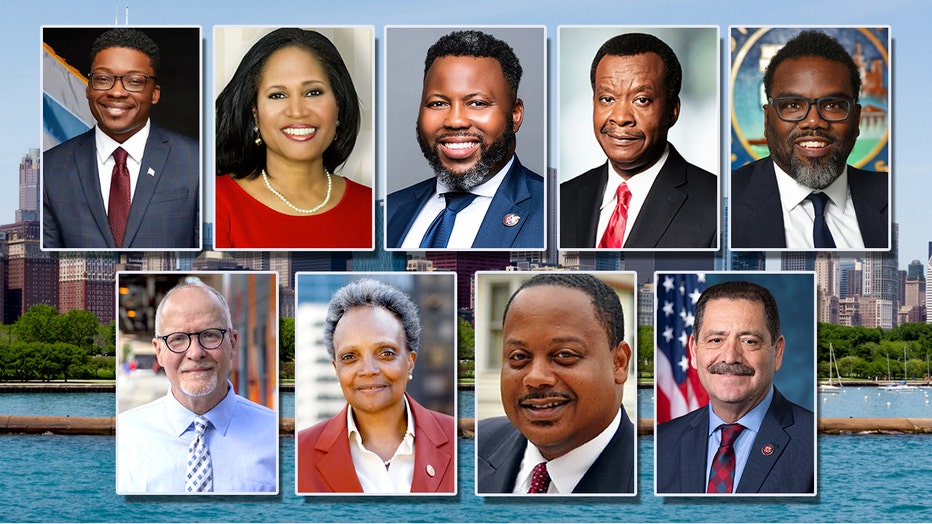 "Garcia is fading fast, which is a surprise to everyone. He was he front runner not that long ago. And it's surprising because Chuy is one of the strongest forces in Illinois politics and they win almost every race they touch. But, for whatever reason they did not take this race seriously up until about a week ago. And voters started voting by mail weeks ago."
Voters were asked about three potential runoff scenarios:
Lightfoot and Vallas are tied at 40% a piece;
Lightfoot leads Garcia 42% to 35%; and
Vallas has a wide lead over Garcia, leading 45% to 25%.
Garcia's campaign posted a video online Thursday afternoon portraying Vallas as a Republican who would not protect abortion rights.
At a recent campaign event, Vallas said he is a strong supporter of abortion rights.
The Garcia campaign video, which a spokesman said would not run as a TV ad, an off-camera female announcer says, "Here in Chicago, we have to protect our rights. But Paul Vallas won't, because Vallas is a Republican."
"I'm more of a Republican. Fundamentally, I oppose abortion," Vallas says during the ad.
"Chicago deserves someone they can count on. Chuy Garcia will keep fighting to expand access to reproductive health care," the female announcer says.
A spokeswoman for Vallas accused the Garcia campaign of dirty tricks. She said that in the very same interview from which Vallas's quote was taken, he identified himself as pro-choice when it comes to public policy.
"We surveyed 614 likely voters in Chicago from January 26th - January 30th, with 41% of those live responses, for a margin of error of ±3.95%," Corbetter wrote in a memo about the poll.
On Thursday, Politico.com's Illinois newsletter briefly mentioned two other, completely separate voter opinion surveys. They were overseen by 1983 Labs, a group that Politico's newsletter wrote includes Benjamin Bobo, described as a master's degree graduate of the University of Chicago, and Adam Gunther, who has worked with KNI Communications, based on Chicago's North Side. FOX 32 Chicago News left a voice mail message for Gunther.
Politico's Illinois newsletter said the two surveys by 1983 Labs found Mayor Lightfoot with about 16.5%; Willie Wilson at about 14.5% and Paul Vallas at about 10.5%. Here's a link to a graphic of the two surveys posted by Politico.
Corbett's full briefing memo is as follows:
Lightfoot & Vallas Are the Frontrunners: Lightfoot and Vallas are in a statistical tie, with Lightfoot leading by just 2% in the initial matchup (23%-21%), and them tied in a head-to-head matchup (40%-40%).
Garcia Is Fading: Garcia is down to just 13% in the poll, and he loses to both Lightfoot and Vallas head to head (-7% against Lightfoot and -20% against Vallas).
If Turnout Mirrors November, That Helps Vallas: If what we saw in November's turnout happens again in this election, with decreased female and minority turnout, that helps Vallas and hurts Lightfoot & Garcia. Vallas would gain 2% in the initial matchup while Lightfoot and Garcia would each lose 1%, putting Vallas in the lead. In the head-to-head matchup against Lightfoot, Vallas would lead by 4%. If Lightfoot and Garcia are going to have a chance in this election, they must improve Black and Hispanic turnout.
Gender Breakdown: Vallas and Garcia are both doing much better with males: Vallas leads 24% to Lightfoot's 22% to Garcia's 15% among males. Lightfoot does much better with females: she leads with 27% among females, with Vallas at 19% and Garcia at just 8%. A key priority for Lightfoot needs to be ensuring female turnout is strong.
Age Breakdown: Vallas' support improves the older voters are. He's at just 14% among voters under 45 but he surges to 26% among seniors. Lightfoot, conversely, does better with younger voters, earning 29% of the vote from voters under 45.
Ethnicity Breakdown: Unsurprisingly, Vallas leads among White voters (31% to Lightfoot's 18% and Garcia's 11%); Garcia leads among Hispanic voters (36% to Vallas' 21% and Lightfoot's 10%); and Lightfoot leads among Black voters (37% to Wilson's 12%, Vallas' 12%, Johnson's 10%, and Garcia's 3%).
Party Breakdown: Vallas is doing extremely well with Republicans and Independents, leading Wilson among Republicans by 38% and leading Lightfoot among Independents by nearly 12%. Meanwhile, Lightfoot is doing extremely well with Democrats, who make up a majority of the vote in Chicago, leading Vallas by 11% and Garcia by 16%.