Mother tells son to shoot man in South Side restaurant murder: police
CHICAGO - BREAKING NEWS UPDATE: All charges have been dropped against a mother and her son accused of killing a man during a fight inside a restaurant on June 18 in the West Pullman neighborhood. Click here for the full story.
The following is reporting from our original story from last week:
A mother and her son are facing murder charges after she allegedly told him to shoot a man inside a restaurant Sunday on Chicago's South Side. 
Police said Carlishia Hood, 35, and her 14-year-old son were arrested on Wednesday in connection to the fatal shooting of 32-year-old Jeremy Brown.
Hood's bail was set at $3 million. Her son's bond information has not yet been released.  
Around 11 p.m., Hood went inside Maxwell Street Express, 11656 S. Halsted St., to pick up some food while her son waited in the car. While she was waiting in line, Hood got into an argument with Brown, prosecutors said.
Hood then started texting her son and pointing to him outside. Her son entered Maxwell's and stood in the doorway at which point Brown punched Hood in the head three times, prosecutors said.
Court documents stated after the first punch, the boy pulled out a gun and fired a shot at Brown, striking him in the back. Brown ran out of the restaurant and the boy followed him, firing additional shots. Hood told her son to keep shooting Brown until he killed him, according to prosecutors.
Once the shooting was over, Hood told her son to shoot a witness who was egging on the argument she was having earlier. Hood tried to wrangle the gun away from her son, but he pushed her away.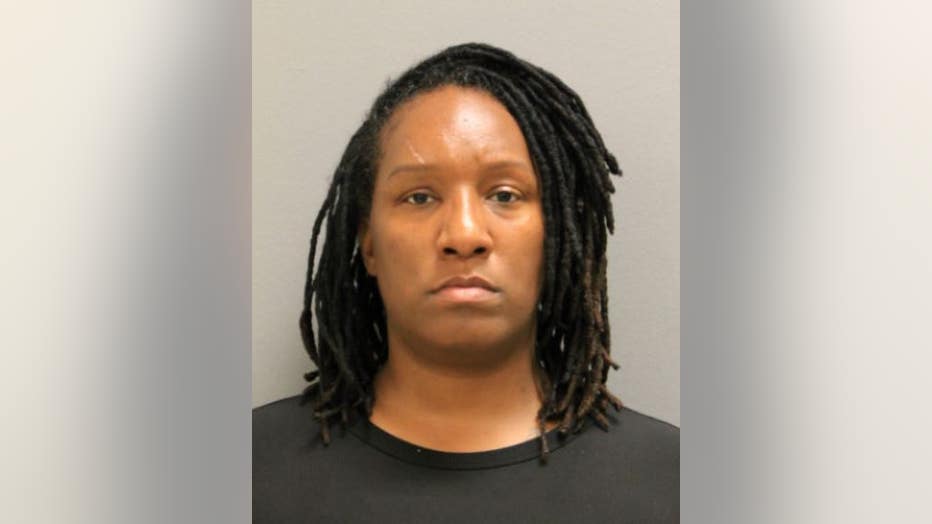 Carlishia Hood | Chicago police
They then got into their vehicle and drove home together. Surveillance video captured both of them arriving home after the shooting.
SUBSCRIBE TO FOX 32 ON YOUTUBE
Brown suffered two gunshot wounds to the back and was pronounced dead at the scene.
Hood turned herself in to police on Thursday. During her search, police recovered an unloaded, unregistered handgun along with an empty magazine. Further investigation revealed Hood has a valid Illinois FOID card and a concealed carry license.
Hood and her son were charged with one count of first-degree murder. Hood was also charged with contributing to the delinquency of a minor.