'Get out or I'll shoot you': Carjacker leads Chicago police on chase prompting university lockdown
CHICAGO - The driver of a red Mazda was parked in front of his home in West Rogers Park Monday afternoon when a man walked up and pointed a gun at his head.
"Get out or I'll shoot you," the gunman said, according to a police report.
The driver got out and watched as the carjacker sped off followed by a gray or silver Honda, police said. Police located the stolen Mazda minutes later near DuSable Lake Shore Drive and Chicago Avenue and pursued the car onto the Northwestern University medical campus where the suspect fled on foot after officers boxed the car in.
A lockdown was imposed on Northwestern University's Chicago campus Monday afternoon but was lifted after police cornered the 19-year-old carjacking suspect in a basement.
DOWNLOAD THE FOX 32 CHICAGO APP FOR BREAKING NEWS ALERTS
"The suspect in this investigation has been taken into custody," police spokesman Thomas Ahern wrote on Twitter around 2:20 p.m.
According to police, a gun was recovered from the stolen vehicle he ditched at 320 E. Superior Street. Charges were pending Tuesday.
The carjacking occurred around 12:48 p.m. in the 2000 block of West Arthur Avenue in the city's West Rogers Park neighborhood, police said. As the stolen car fled south on DuSable Lake Shore Drive, a license plate-reading camera picked it up at Foster Avenue, according to a police report.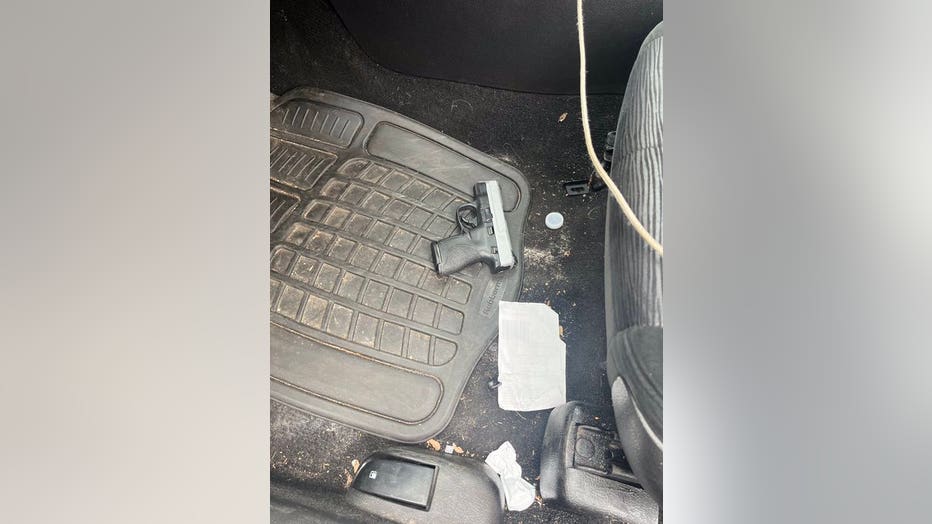 Gun recovered from stolen vehicle | Chicago Police Department
When officers caught up with the carjacker at Chicago Avenue and boxed him in, he dropped a gun on the floorboard and ran into the Morton Medical Research Building at 310 E. Superior St., authorities said.
As police set up a perimeter and began searching for the suspect, Northwestern University wrote in a campus alert: "There is an active threat event on the Chicago Campus. Run, Hide, Fight. Take proper shelter. Lock and/or barricade doors."
"We were all texted through the emergency system to barricade," said Elizabeth, a Northwestern employee. "It was very stressful, but I'm glad everyone is safe."
Chirag Goel, a first-year medical student at Northwestern University, said he was studying at the time the alert was sent out, and soon saw the hallways fill with police and SWAT officers.
"Doors were locked, lights were shut down," said Goel. "You hear these types of things on the news and never think you're going to be a part of it."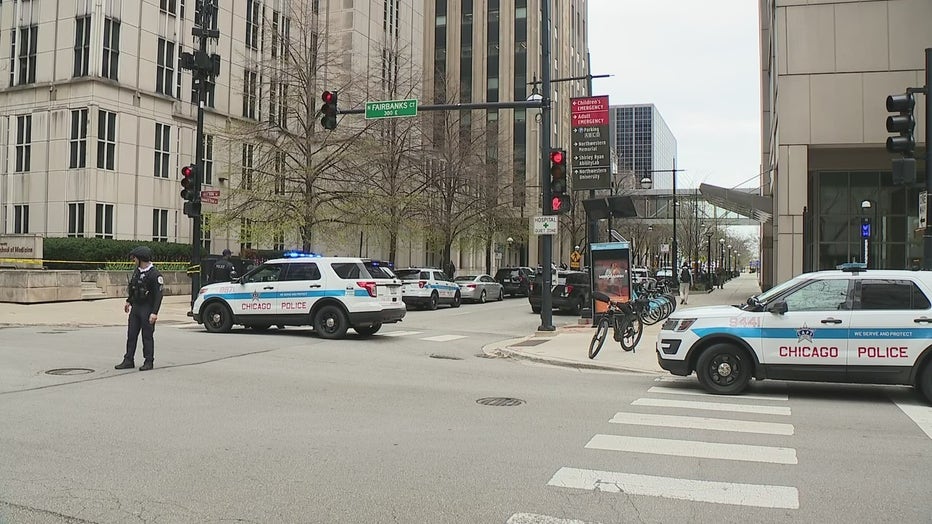 The suspect was arrested about an hour later in the basement of the Ward Building at 303 E. Chicago Ave., Northwestern University wrote in another campus alert. The Ward Building is located near the Feinberg School of Medicine.
"The world seems topsy turvey right now," said Dennis Percevecz, who was on his way to class Monday evening at Northwestern University. "There have always been carjackings, but there just seems to be so much more of it."
No injuries were reported. Still, it's left some students and faculty on edge.
"For someone not originally from here, just kind of came here for training, it's a little scary to figure out where to live, is it safe? Is this a trend that's worrisome? Not sure. Just a little unnerving to see what's going on," said Taimur Safder, Northwestern Memorial Hospital cardiology fellow.
This is the second SWAT incident to take place at Northwestern Hospital's campus in about a week's time.
Last Sunday, no threat was found when the emergency room was put on lockdown following a concerning phone call.