Supt. David Brown announces resignation from Chicago Police Department
CHICAGO - Chicago Police Supt. David Brown is resigning from the police department effective March 16.
Brown released a statement Wednesday saying that he accepted a job opportunity in Texas.
"I've accepted a job opportunity to be the Chief Operating Officer of Loncar Lyon Jenkins, a personal injury law firm with seven offices in Texas. I will be stepping down as Chicago Police Superintendent effective March 16, 2023 so the incoming mayor can begin the process as soon as possible to hire the next Superintendent," Brown said. "It has been an honor and a privilege to work alongside the brave men and women of the Chicago Police Department. I will continue to pray that all officers return home to their families safe at the end of their shift. May the Good Lord bless the city of Chicago and the men and women who serve and protect this great city."
Brown's resignation comes after all eight Chicago mayoral challengers had vowed to fire Brown as their first order of business, including the two remaining candidates in the April 4 runoff: Paul Vallas and Brandon Johnson.
Following Brown's resignation, candidate Johnson released the following statement:
"The next superintendent of the Chicago Police Department must be as fully committed to the health and safety of all Chicagoans as I am, and to immediately meeting all requirements of the federal consent decree while addressing the root causes of crime. As mayor, my preference will be to appoint someone from within the current ranks of the Department, but most important is appointing the right person for the job – someone who is collaborative, competent and compassionate, and who truly cares about protecting and serving the people of our city." 
Vallas also released a statement, saying:
"Superintendent Brown failed to make our city safer and his resignation is a positive step forward.  As Mayor, I will appoint a new police superintendent and command team from within CPD that will prioritize community policing, end the failed friends and family promotion system and invest in building trust between the police and our communities. Public safety is a civil right and as Mayor I will work with CPD and all of our communities to make Chicago the safest big city in America."
Brown started his position as superintendent just as the stay-at-home shutdown triggered by the COVID-19 pandemic was beginning.
CPD was in the midst of a reorganization spearheaded by the interim superintendent. Specialized units were being disbanded. Those officers, including detectives, were reassigned to neighborhood police districts.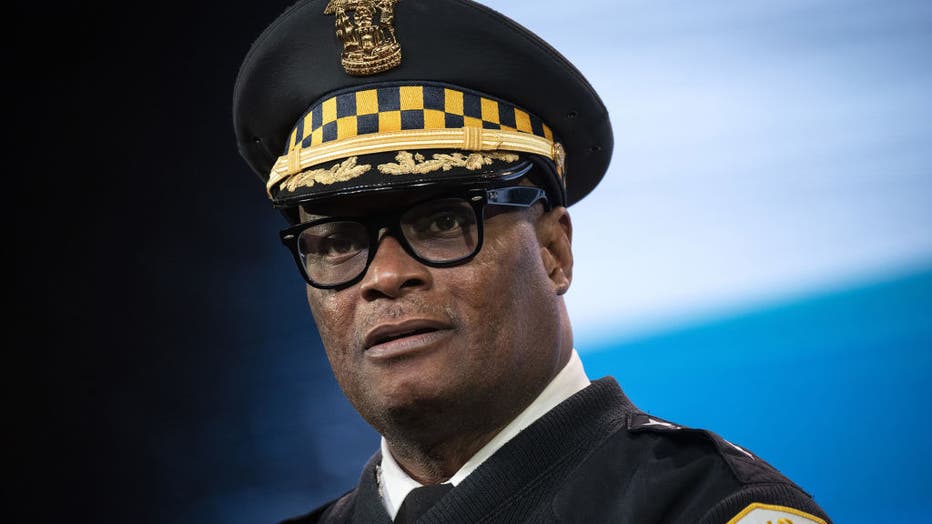 Chicago police Superintendent David Brown provides an update on public safety initiatives at the Chicago Tabernacle in the Kilbourn Park neighborhood on April 4, 2022. (E. Jason Wambsgans/Chicago Tribune/Tribune News Service via Getty Images)
Brown reversed field, enlarging citywide units and relying on them even more after demonstrations triggered by the murder of George Floyd devolved into looting.
City Council members accused Brown of raiding their areas to staff those citywide units and protect downtown Chicago at the expense of the neighborhoods.
Brown also drew fire for ousting his head of reform, Robert Boik, after Boik wrote an email warning that transferring officers from the Office of Constitutional Policing to patrol would make it impossible to meet the training requirements in a federal consent decree governing police reform.
Brown and Mayor Lori Lightfoot have recently embraced a strategy of flooding Chicago's most violent areas with additional officers, violence interrupters and other city resources.
SUBSCRIBE TO FOX 32 ON YOUTUBE
Lightfoot released the following statement in response to Brown's resignation:
"Today, Superintendent David O. Brown informed me that he would be resigning as Superintendent of the Chicago Police Department effective March 16. I accepted his resignation and want to commend him for his accomplishments not just for the department but the entire city, including setting a record number of illegal gun recoveries for two consecutive years; leading a double-digit reduction in violent crime in 2022; significant, consistent progress on the consent decree; standing up a full-time recruitment team that yielded over 950 new hires last year; significantly expanding the resources for officer wellness; and promoting more women to the senior exempt ranks than ever before in the history of the department. I personally want to thank him for his service to our city. First Deputy Eric Carter will be appointed as interim superintendent until the new Mayor is sworn into office. We ask the Community Commission for Public Safety and Accountability to immediately begin the search for a new Superintendent so that the new Mayor will be able to make a selection as soon as possible." 
The last five Chicago police superintendents — not counting interim Supt. Charlie Beck — all lasted at least three years: Terry Hillard, Phil Cline, Jody Weis, Garry McCarthy and Eddie Johnson. McCarthy and Johnson were fired.
The Sun-Times Media Wire contributed to this report.