Chicago school holds prayer vigil for Ukraine on same day they started accepting refugees
CHICAGO - Chicago students from a Ukrainian Village school are offering prayers of peace for their loved ones overseas.
On Monday, students at St. Nicholas Cathedral School led the afternoon prayer vigil. It took place the same day the school welcomed children from war-torn Ukraine.
"We pray for the consecration of Ukraine and Russia because countless families have been separated from one another, unsure of when they will meet again," one student said.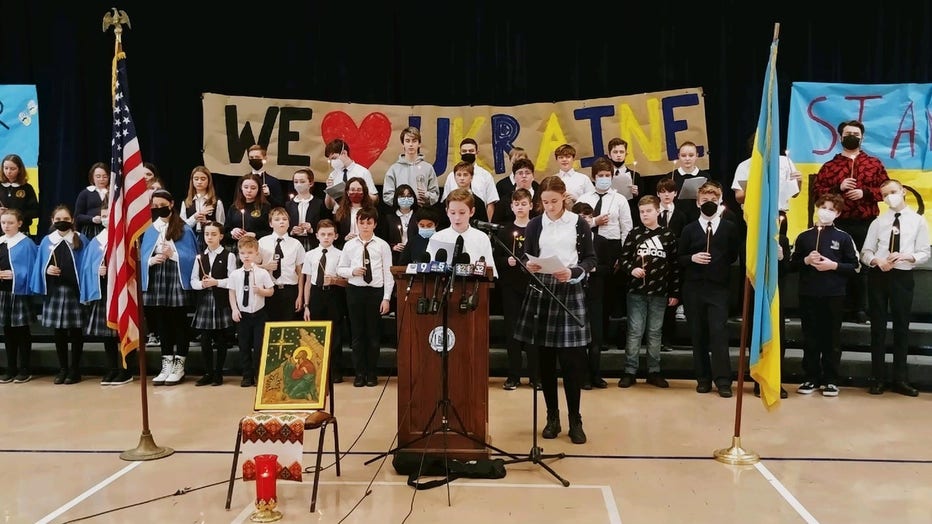 Students from other schools — from St. Pius V in Pilsen and St. Mary of the Sea and St. Nicholas of Tolentine in West Lawn — also joined the vigil. The group lit candles and prayed for Ukraine.
Since the war began three weeks ago, the Ukrainian Village school has become a drop-off for donations and now they are welcoming Ukrainian refugees and new kids.
"It makes me feel happy that they can get a bunch of this stuff and that they can come to the school and feel welcomed," said Elle Brenner a 7th grader at St. Nicholas.
DOWNLOAD THE FOX 32 CHICAGO APP FOR BREAKING NEWS ALERTS
The school has about 150 students and is raising tuition money and making room for possibly 50 students from Ukraine. There are already 17 kids who've fled their war-torn homes, sought refuge in Chicago and are now attending class at St. Nicholas.
"I ask their story, 'How did they get here?' So, I can help them as much as I can," said Emma Engwall, a 7th grader at St. Nicholas.
You can help the refugee families by going to BigShouldersFund.org.