Chicago's iconic Superdawg celebrates 75 years of serving customers with love
CHICAGO - A super celebration was held on Chicago's Northwest Side Tuesday as Superdawg turned 75.
The iconic hotdog stand with the two giant sausage statues on the roof was started by a couple of college kids in 1948, and now, it's still being run by their family.
London has Big Ben, and Paris has the Eiffel Tower. But on the city's Northwest Side, the Superdawg stand and its enormous sausage statues are how you know you're in Chicago.
"75 years! Pinch me!" said Superdawg co-owner Lisa Drucker. "75 years is amazing."
Lisa Drucker, along with her husband Don Drucker and her brother Scott Berman are co-owners of the Chicago hot dog institution.
"Same corner. Same family. Same building. Same food. Same everything. We're here. The world has changed around us," Lisa said.
SUBSCRIBE TO FOX 32 ON YOUTUBE
In 1948, Lisa and Scott's newlywed parents, Maurie and Florence Berman, opened Superdawg as a summer-only hotdog stand at the corner of Milwaukee, Nagle and Devon while they were still attending Northwestern University.
Days before they opened, they installed the now-iconic 12-foot tall papier-mâché and fiberglass hotdog statues with blinking red eyes.
"They bend toward each other lovingly as Superdawgs do," said Scott Berman. "Maurie and Flaurie, named after my parents. And they don't just blink their eyes in a crazy fashion. They wink at each other."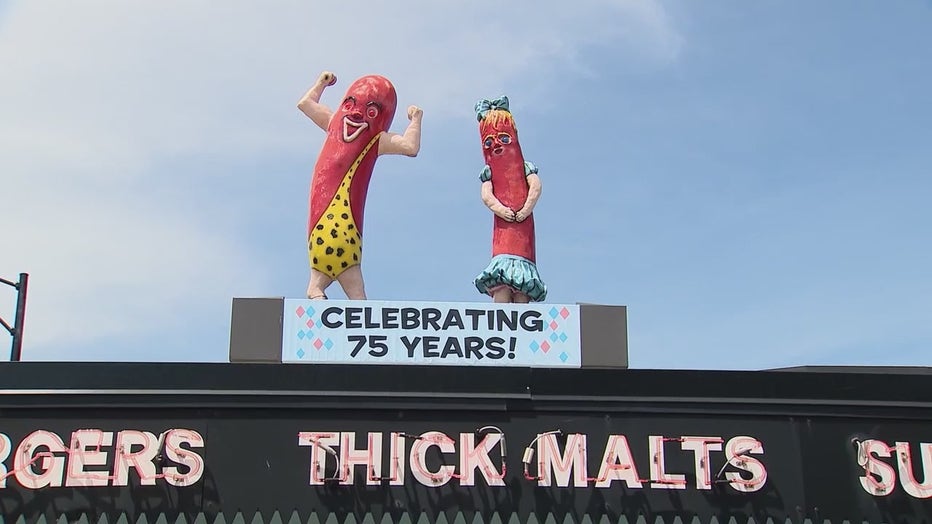 Superdawg is also the last drive-in carhop in the city of Chicago where customers park and order, and their food is carried to the car.
Nancy Wormington has been hustling that food across the parking lot for 24 years.
"Always a car hop," Wormington said. "It's amazing. It's a great job to have. Granted you got to do bad weather, good weather."
Superdawg uses its own recipe for the hotdog and bun, which are placed on a warm bed of fries inside a tidy rectangular box. It's a serving style that generations of customers have come to love.
"I came here as a kid. My husband came here as a kid," said customer Marnie Zabicki. "And now we bring our kids here."
Co-owner Don Drucker welcomed some of those generational customers at a party to mark the anniversary on Tuesday afternoon.
"It's wonderful today at lunch to be able to see a lot of them have come out already to congratulate us, wish us well and tell us, 'Hey, we want you here for another 75,'" Don said.
And with a third generation of family now working at the hot dog stand — "We have no intention of retiring," said Lisa Drucker.
And to celebrate its anniversary, Superdawg will be giving out 75 gift certificates each week for the month of May at both its Chicago location and its newer hotdog stand in Wheeling.
"Our parents developed a recipe in 1948 that we still use. Special super dog, specially made for us to our recipe, larger than most. Even the bun is made specially to our recipe," said co-owner Scott Bergman.
"Every single sandwich we serve is served with that love and attention, and that specificity, so that you get the thing you ordered and it's made with love," said Lisa Drucker.