Chicago woman spearheads collection campaign to aid Ukrainian firefighters
CHICAGO - Ever since Russia's invasion of Ukraine, support for Ukrainians has grown locally – with many people desperate to help the war-torn country.  
Now, one Chicago woman is collecting firefighter gear that will be shipped to first responders in Ukraine.
"I am from east Ukraine and I feel this pain from back in 2014, and when it started I felt like, I cannot just sit, I have to help," said Yana Feyganova, who organized the donation campaign.
DOWNLOAD THE FOX 32 CHICAGO APP FOR BREAKING NEWS ALERTS
Inside a Schiller Park warehouse, volunteers were busy on Wednesday – sorting, packing and sealing boxes that will be sent overseas.
"It's not a war on Ukraine, it's a war on democracy," said Natalie Baranchan, who is a lead organizer with Help Razom.
In recent weeks, the space has been used to collect and ship army gear, medical supplies, and other humanitarian aid items to Ukraine. Oftentimes, volunteers receive messages of thanks when those kits arrive.
"Personally that gets me going because I'm like, it got there, they're using it, we have to keep going," said Baranchan.
On Wednesday, their focus turned to Ukrainian firefighters on the front lines.  
Feyganova, who coordinated the effort to collect firefighter gear, said Ukrainian firefighters are wearing out their equipment faster than ever. On a daily basis, they are putting out fires from bombings and rescuing people from rubble.
She was inspired to start the collection campaign after speaking with a friend who is a first responder in Karkhiv, Ukraine.
"They are driving cars built in 1979, all the equipment that was gathered over a year, right now is wearing out in three to four days, so everything that was stored there is worn out so fast," Feyganova said.
Boots, turnout gear, and other life-saving equipment was donated by various local fire departments, including the Chicago Fire Department and the Des Plaines Fire Department.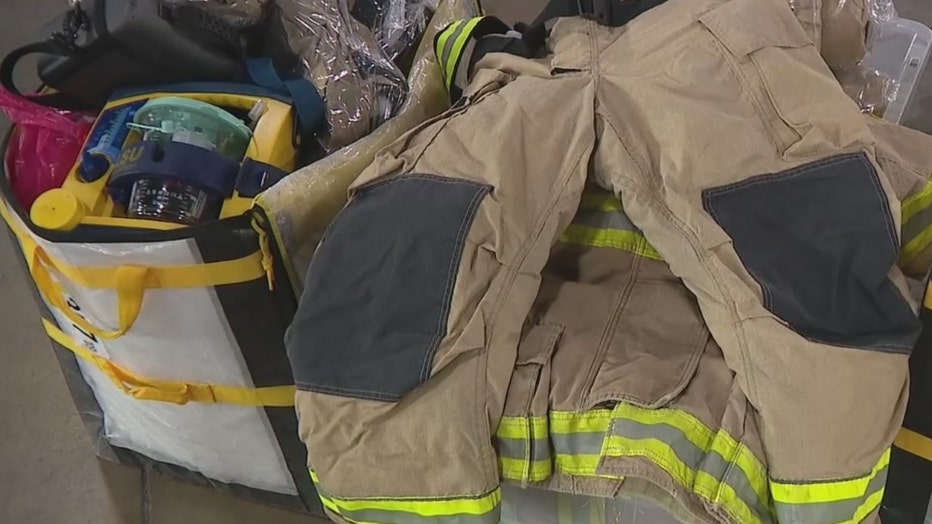 Feyganova is working with nonprofits, including Help Razom, to pack and ship the materials.
Equipment for more than 200 firefighters has already been collected. It will be shipped to Lviv, Ukraine and then distributed to fire stations across the country.
On Thursday, April 14 at 7:30 p.m., a dance class will be held in the West Loop to raise money for Ukrainian firefighters.
A GoFundMe account has also been set up to collect donations for firefighters in Ukraine.