Chicago woman hopes to identify man filming up her skirt on CTA train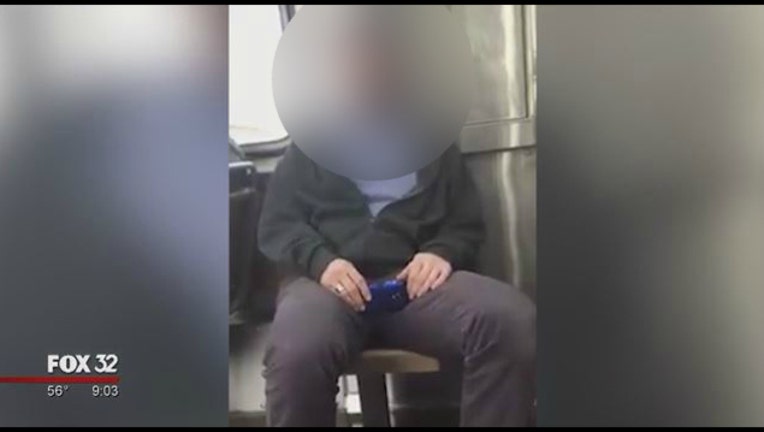 article
CHICAGO (FOX 32 News) - A routine ride on the Brown Line this week was one a female student won't soon forget.
She quietly took matters into her own hands when she noticed a man trying to film up her skirt, and now she's hoping to identify him.
Bobbee Graham posted video from her ride Tuesday to her Facebook page and it's already been viewed more than 55-thousand times. That's a lot of eyes on the lookout for a man she wants arrested.
"My initial thought was to kick the phone, but if I kick the phone I lift my leg and you get the shot you're trying to get!" Graham said.
So, Graham did the next best thing. She pulled down her sunglasses, turned on her own phone and started rolling, grabbing what she hopes is the money shot that lands the guy in trouble.
"I was like why is he staring at me? This is getting creepy!" she said. "When I looked down, he had his phone like all the way down at his pants."
The Second City student says she got on the Brown Line at the Harold Washington Library. The mystery man across from her sat down sometime between there and her stop at Sedgewick. 
Maybe he was just watching videos, she thought, until she got up.
"I looked down at his phone and he was going through his camera to see what footage he'd gotten and I'm like wow, you're a creep," Graham said.
Dwayne Wilson is a CTA rider as well.
"It's terribly disgusting. I don't see why there wasn't anyone around at the time to help her out as a woman," Wilson said.
Hundreds sided with her online and did their part to share the video. One woman even commented the same man has been seen on the green line train.
CPD told Graham they're looking into it.
However, what she wasn't prepared for were the Facebook comments suggesting she's to blame for wearing a skirt.
"If I saw him do it, I would've said something. I would've told him, look you sick…you don't do this," CTA rider Tamara Hill said.
CPD and CTA are investigating using Graham's video to see if the man matches the description of any other voyeur reports from CTA riders.