Cook County girl who received Taylor Swift's fedora at Chicago concert speaks out
CHICAGO - Following Taylor Swift's recent residency at Soldier Field, a heartwarming story has emerged involving a young girl from the suburbs whose dream came true during Friday's Chicago show.
Isabella Avila, an 11-year-old soon-to-be sixth grader from Oak Forest, had no idea her mother had secured tickets to the concert until the day of. Around an hour and a half into the performance, during the song "22," someone from Swift's tour approached Isabella and invited her to join them on stage. With anticipation building, Isabella and her mother had no clue what awaited them, only knowing it would be something special.
To their delight, Taylor Swift herself handed Isabella a signed fedora, and in return, Isabella presented the pop star with a friendship bracelet. The two exchanged a high-five, creating a magical moment that left Isabella in awe.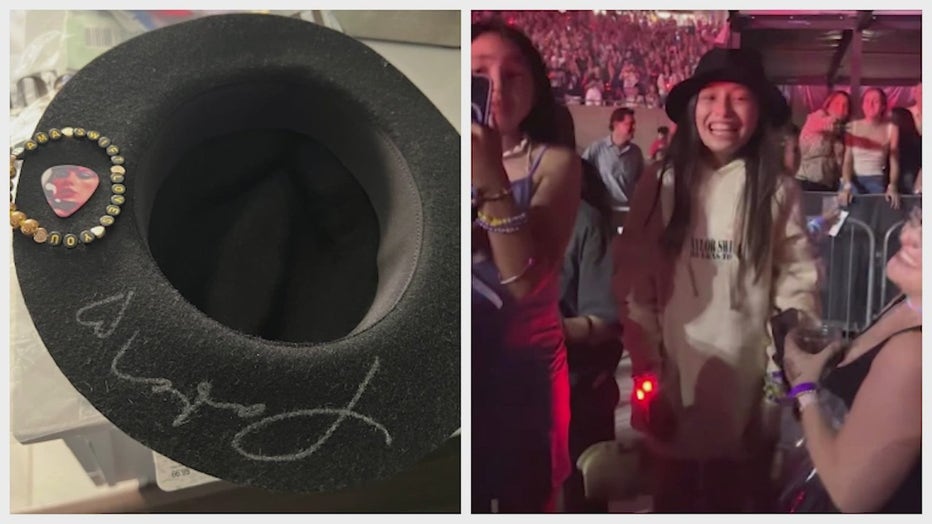 Isabella Avila after receiving Taylor Swifts fedora at Chicago concert.
SUBSCRIBE TO FOX 32 CHICAGO ON YOUTUBE
Reflecting on the experience nearly a week later, Isabella expressed her deep appreciation.
"It means a lot because I've been a fan of Taylor since '1989' came out. That's when I was like four. I always used to repeat 'Shake it Off' – like, a lot. My dad even knows the song!" she said.
When asked about potentially selling the hat on eBay, Isabella promptly scolded FOX 32's Anthony Ponce, emphasizing her attachment to the cherished item. She plans to reserve a special spot in her bedroom for the fedora, placing it in a shadow box alongside other Taylor Swift memorabilia. The hat will serve as a daily reminder of the incredible encounter with her idol.
Isabella's encounter with Taylor Swift serves as a testament to the power of music and the lasting impact it can have on young fans.