CPD Interim Supt. Carter recommends firing Officer Eric Stillman in fatal shooting of Adam Toledo
CHICAGO - Formal disciplinary charges were filed Monday against the Chicago police officer who fatally shot 13-year-old Adam Toledo in 2021, setting in motion quasi-judicial proceedings to determine whether he should be fired.
Toledo was in the 2300 block of South Sawyer Avenue on March 29, 2021, when he was fatally shot in the chest by Officer Eric Stillman following a foot pursuit.
Stillman allegedly used unnecessary deadly force, failed to follow his training on foot pursuits and was slow to activate his body-worn camera, according to the charges filed with the Chicago Police Board by interim Police Supt. Eric Carter.
An initial status hearing for Stillman is scheduled for May 1. When it comes to disciplinary cases, the Police Board will have a hearing officer oversee an initial status hearing followed by discovery, a pre-hearing conference and presentation of witness testimony and evidence at a hearing.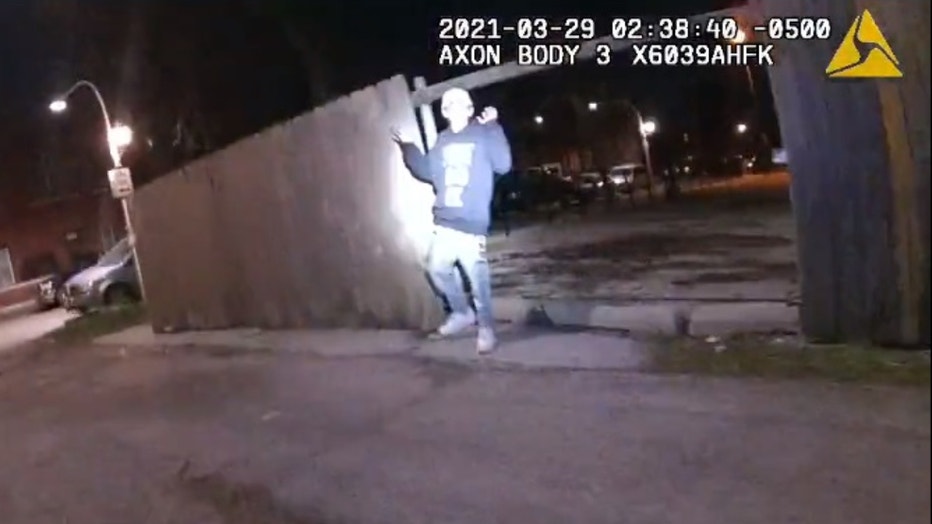 Video and materials were released Thursday following the fatal shooting of 13-year-old Adam Toledo.
The charges come after Police Board President Ghian Foreman ruled last October that Stillman should face dismissal, siding with the disciplinary recommendation of the Civilian Office of Police Accountability and against Carter's predecessor, David Brown.  The former superintendent agreed only with COPA's finding that Stillman had failed to activate his body camera in a timely manner and recommended the officer be suspended for no more than five days.
Toledo's death sparked widespread community outrage that was compounded by the fatal police shooting of 22-year-old Anthony Alvarez just two days later. The shootings, both captured by police cameras during foot chases, pushed the police department to quickly implement a new policy over such pursuits.
SUBSCRIBE TO FOX 32 ON YOUTUBE
But neither case resulted in criminal charges.
In March 2022, Cook County State's Attorney Kim Foxx said she would not file criminal charges against Stillman or the officer who shot and killed Alvarez, Evan Solano. Foxx said the decision not to file charges was made after a thorough investigation and an additional review by an outside agency.
"There are no winners in this situation," she said at the time.
The police union has maintained Stillman should not be fired.
"Eric Stillman should not be put before the Police Board and shame on this department and the city for subjecting him to that and all the nonsense surrounding the Toledo shooting," FOP President John Catanzara said.
Solano faced a similar initial hearing last July, when police board member Steven Block sided with Brown's decision to suspend Solano for 20 days. Alvarez's family responded by saying they were "appalled" by the ruling, which raised questions about how the resolution of such a controversial case could fall to just one person.
In Foreman's ruling in the Toledo shooting, he acknowledged "the parties and the public will benefit from a full evidentiary hearing on this matter, and so referring this matter for a hearing before the police board is the appropriate next step."
Stillman faces seven rule violations related to the charges, including unlawful or unnecessary use of his firearm and acting in a way that discredited the department. After the initial hearing at the start of next month, the board will oversee a pre-hearing conference and then the presentation of testimony and evidence during a public hearing. Board proceedings can stretch nearly a year.
Stillman's attorney, Tim Grace, said his team is "very disappointed in the Chicago Police Board and very disappointed in COPA that they don't recognize the difficulty that all police officers have.
"This case is a prime example of the tone deafness of our oversight and a lack of appreciation of the extraordinarily dangerous situations that Chicago police officers find themselves [in] every day."
The disciplinary charges against Stillman come as a change in Chicago police leadership is happening.
The department that selects candidates for the Superintendent's job hosts a forum on the west side at the Kehrein Center for the Arts Tuesday night, to find out what the public wants in a Superintendent of the department.
Attorneys for the Toledo family applauded Carter's recommendation in a statement:
"We are relieved and grateful that Interim CPD Superintendent Eric Carter recommended the termination of Eric Stillman, who shot and killed our 13-year-old son, Adam, on March 29, 2021.
Superintendent Carter's recommendation is consistent with COPA's investigation, findings and conclusions. We trust the Police Board will come to the same conclusion. Firing Eric Stillman will not bring our Adam back but will take us one step closer to Justice for Adam. This brave decision will send a much-needed message to the Chicago Police Department that its officers must respect the sanctity of human life and strictly follow CPD's policies and training while doing their job.
We pray that the City of Chicago will likewise take the necessary steps to ensure that tragedies like Adam's death are avoided in the future so that other families will not suffer the immense pain his loss has caused us."
The Sun-Times Media Wire contributed to this report.