Community calls for release of video after 13-year-old killed by Chicago police
CHICAGO - After police shot and killed a 13-year-old boy in what officials described as an "armed confrontation" in Little Village Monday, everyone from Mayor Lori Lightfoot to community activists called for the release of videos that could shed light on what happened.
Meanwhile, the boy's mother said she also wants answers about the death of her son, who she said wanted to be a police officer when he grew up.
Adam Toledo, 13, who lived about a mile and half from the incident in an alley west of the 2300 block of South Sawyer Avenue, was shot in his chest and later died, the Cook County medical examiner's office said.
In a statement, police said officers responded to a ShotSpotter alert about 2:35 a.m. that morning and saw two males. One person, who was allegedly armed, ran from the scene and was shot by an officer during the "armed confrontation," police said.
Police shared a photo of a gun allegedly recovered at the scene.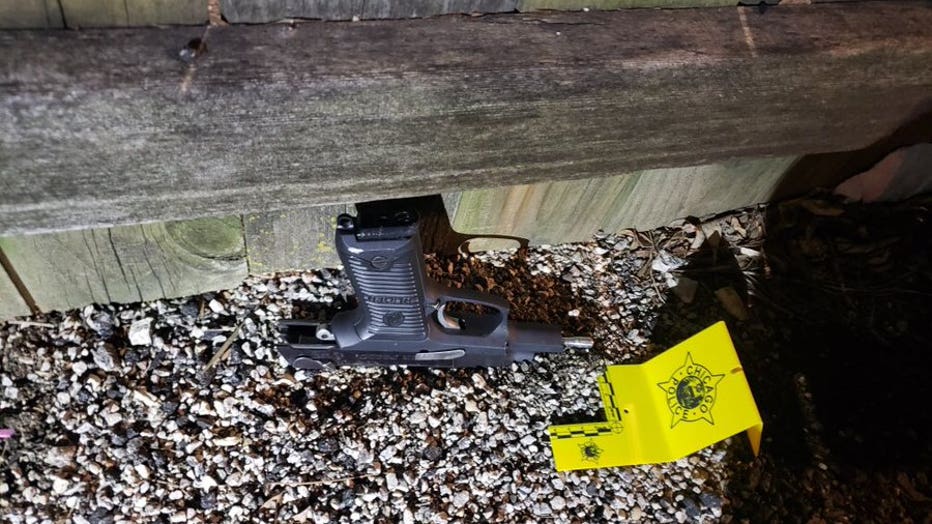 A weapon was recovered after a 13-year-old boy was fatally shot by police and another was arrested March 29. 2021 in Little Village. | Chicago police
That person, later identified as Adam, died at the scene, police said. Authorities took four days to release Adam's name as they waited to notify next-of-kin, a spokeswoman for the medical examiner's office said.
The other person who ran from police, 21-year-old Ruben Roman Jr. of Edgewater, was arrested and charged with a misdemeanor count of resisting arrest, police said. In 2019, Roman pleaded guilty to illegal gun possession stemming from an arrest in Evanston and was sentenced to probation, court records show.
Elizabeth Toledo, Adam's mom, said in a phone interview Thursday that she doesn't know what happened to her son, who she last saw Sunday when they attended a memorial service for a relative who died.
She told the Sun-Times she "just wants answers about what really happened."
"I haven't heard from cops since yesterday when they knocked on my door," said Toledo, 44.
The family has set up a GoFundMe to cover the funeral costs.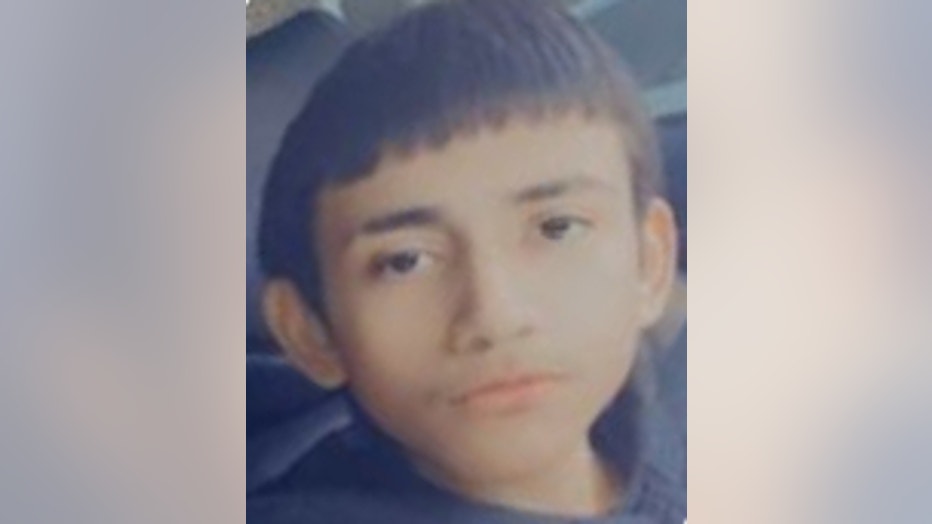 The officer in Monday's incident was placed on desk duty for 30 days while the Civilian Office of Police Accountability investigates the shooting, police said.
The shooting was captured by body-worn camera, but it wasn't immediately clear if investigators would release it, COPA said in a statement Thursday.
COPA is required to release body camera video of police shootings within 60 days of the incident, but policy prohibits them from sharing video if the victim is under 18 years old. Without a court order, the video would not be released, COPA said.
However, investigators will release other evidence including 911 calls, police reports and radio transmissions within 60 days, COPA said.
In a statement, Mayor Lori Lightfoot, who has a 13-year-old daughter, said she "can only imagine the incredible pain this boy's parents are experiencing at this moment. My heart goes out to them."
Police Supt. David Brown said the shooting was "tragic" and "adamantly" called for the release of relevant videos.
"My greatest fear as the Superintendent of the Chicago Police Department has been a deadly encounter between one of our own and a juvenile especially given the recent rise in violent crimes involving juveniles throughout our city," the statement said. "Unfortunately, this fear became a reality earlier this week."
Adam's mom said the family moved to Little Village in November and lived just a few blocks from where he was shot.
"He was always happy. He loved animals. He was loving to all his siblings," she said.
And, she said, "he wanted to be a cop when he grew up. And next thing you know, a cop took his life," she said.
Near the scene of the incident on Thursday, residents gathered for a yard sale and formed a line along 24th Street where a local church was holding a food drive. The incident took place behind Farragut Career Academy High School.
A surveillance video taken from a camera at Amor de Dios United Methodist Church, which is at the corner of 24th and Sawyer, caught flashes of light from the shooting and additional police officers as they arrived on the scene. However, neither the officer who fired the shots nor Adam could be seen in the video.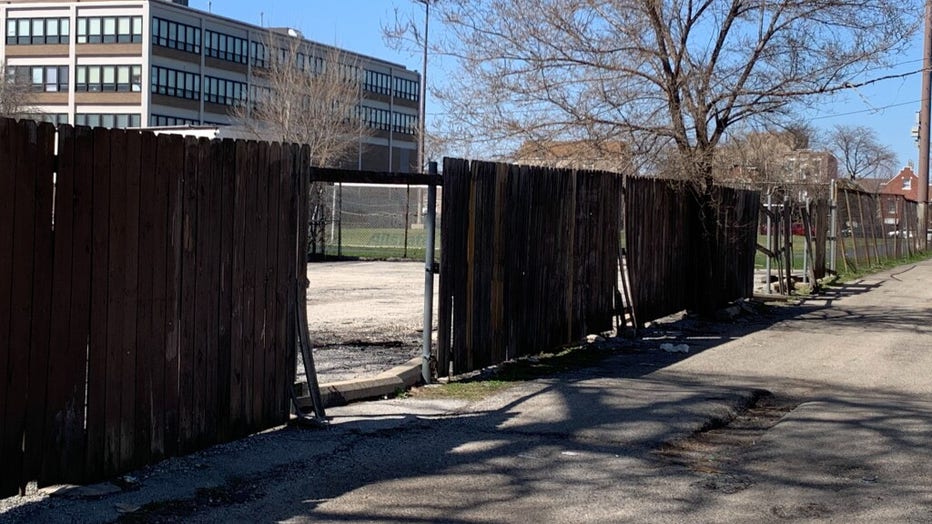 The approximate location where Chicago police killed 13-year-old Adam Toledo, in an alley way near 24th and Sawyer.| Sam Kelly/Sun-Times
Pastor Ramiro Rodríguez, who lives in the 2300 block of South Sawyer, said his son heard the gunshots early Monday morning but neither witnessed the incident.
"I feel for the kids around here," Rodriguez said in Spanish. " … What happened here is not what we want, we want the best for our families and for our youth."
Rodriguez said he does not know Adam or his family, but said he turned over the security footage to detectives.
Many at the food drive expressed shock to hear that the person gunned down by police behind their homes was so young. Nakia Smith, a mother of a 13-year-old boy herself, said she heard gunshots on early that morning, followed moments later by a swarm of blue lights.
"It's very disheartening, especially with what happened a year ago, with the [Derek] Chauvin trial and everything," Smith said, referring to the Minneapolis officer who is currently on trial in the murder of George Floyd. "And then Monday morning, come to find out it was a 13-year-old boy killed … it's just quite a bit."
She added: "I do understand that the police don't always know what someone is going to do, but there has to be a better way."
Meanwhile, Rafael Hurtado Jr., 30 — who said he lives a few houses down from where the medical examiner said Adam lived — urged the release of video footage related to the shooting.
"It's hard to take CPD's word for it" that he was armed, he said. "Especially with everything that's been going on with the police shootings in other places."
He said that "it's tragic for everyone involved, for the family, for the kid because he was so young and for the officer who pulled the trigger."
Two other people have been shot by Chicago police officers this week. Early Wednesday, an officer fatally shot an armed man in Portage Park after officers chased the man on foot. An officer fired shots after the man allegedly pulled out a gun in the 5200 block of West Eddy Street, police said.
Less than an hour later, an off-duty Chicago police officer shot someone breaking into their home in Albany Park on the Northwest Side. The officer shot the man in his face about 12:55 a.m. as the man broke into the officer's home in the 3100 block of Belle Plaine Avenue, police said. The man was rushed in serious condition to Illinois Masonic Medical Center.