State trooper seriously injured in I-55 crash in Joliet
JOLIET, Ill. - A state trooper was seriously injured after his vehicle was rear-ended while investigating a crash on Interstate 55 in Joliet.
The trooper pulled in behind two vehicles who were involved in a crash about 11:46 a.m. on the expressway near US Route 30 and activated his emergency lights to help direct traffic, Illinois State Police said.
While the trooper was still in his vehicle, a 20-year-old man in a 2010 black Cadillac slammed into the back of the squad car, state police said.
The trooper was airlifted to a hospital with serious injuries, state police said. The driver of the Cadillac was hospitalized with minor injuries.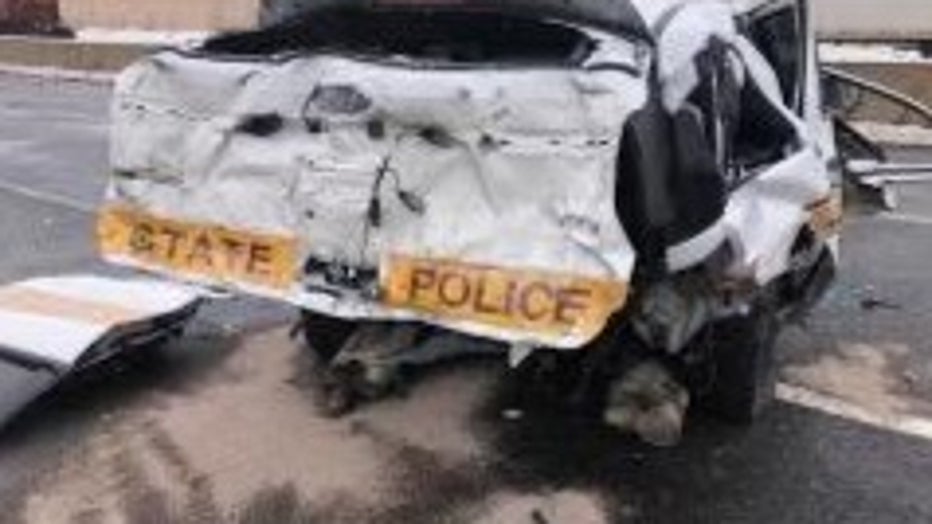 ISP trooper's squad car struck while assisting traffic crash.
Traffic was diverted from the expressway at US Route 30 for more than four hours, according to state police. Lanes were reopened about 4 p.m.
State police said it is the sixth crash so far this year caused by drivers violating Scott's Law by failing to yield to emergency vehicles.
A snowstorm moved into the Chicago area early Monday and was expected to drop a foot or more of snow by Tuesday.