Decision looms for Van Dyke: to testify or not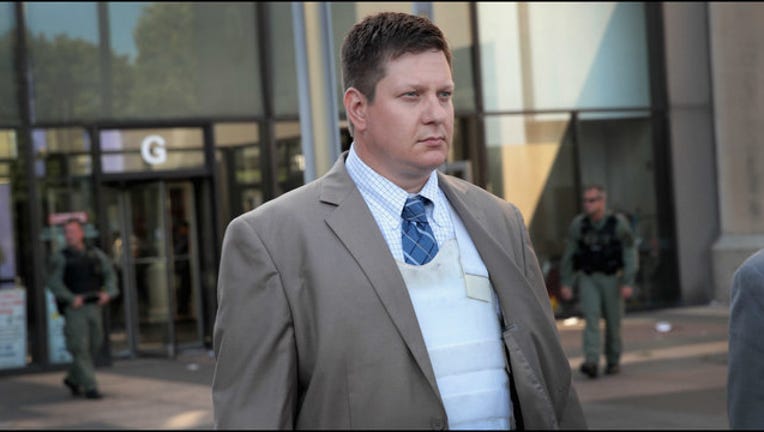 CHICAGO (AP) - Answering the question of what white Chicago police officer Jason Van Dyke was thinking when he shot black teenager Laquan McDonald 16 times will be crucial for jurors once they start deliberating on a verdict at his murder trial. And there's only one person who knows for sure what the officer was thinking: the officer himself.
As the trial enters its third week on Monday, a decision about whether Officer Jason Van Dyke will testify looms. The presiding judge could ask the 40-year-old Van Dyke in the coming week for a definitive answer.
Lawyers for clients who aren't police officers typically advise against testifying because it opens them up to potentially devastating cross-examination. But it's not obvious whether the right legal strategy for officers, like Van Dyke, is to stay off the witness stand.
If he testifies, Van Dyke's biggest challenge will be countering evidence at the core of the state's case: dashcam video of Van Dyke firing at McDonald at night on Oct. 20, 2014, as the 17-year-old seems to walk away from police while holding a knife. Van Dyke continues to fire shot after shot for at least 10 seconds after the teen crumples to the ground.
"But I think he has to get up there and testify," said Phil Turner, a federal prosecutor-turned-Chicago defense attorney who is not working on Van Dyke's case. "I think it will improve his chances of an acquittal dramatically."
Others say the potential pros of testifying don't outweigh the cons.
"It's always a crapshoot to put a defendant on the stand. In this case, I wouldn't do it," Joseph Lopez, another Chicago criminal lawyer not associated with the case.
In several similar trials elsewhere in the U.S. in recent years, officers have testified. Some who did were acquitted or the juries couldn't reach a unanimous verdict.
Laws set a higher bar for convicting officers in on-duty shootings, recognizing their jobs require them to run to danger and make split-second decisions. A fatal shooting can be legal if officers sincerely thought their lives were at risk - even if, in hindsight, they were wrong.
"Van Dyke has to say (to jurors), 'Look, I was going out that day to do my job. I wasn't going out there to shoot some guy,'" Turner said.
Prosecutors may hope Van Dyke does testify, confident they'll be able to shred his credibility during cross-examination. They could question him about police-report accounts he and other officers provided shortly after the shooting that describe McDonald lunging at Van Dyke with a knife and then trying to get back up from the street being struck by the first few shots - something the video does not show.
Three other officers are accused with conspiring with Van Dyke to cover up and lie about the circumstances of the shooting in a bid to shield Van Dyke from prosecution. They have pleaded not guilty.
With Van Dyke on the stand, prosecutors will almost certainly have the dashcam video at the ready, going through all 16 shots frame by frame, asking Van Dyke what he was thinking as he fired each shot.
Defense attorneys may already have paved the way for Van Dyke's testimony. They called multiple witnesses who described McDonald as aggressive on several occasions when he was detained as a juvenile.
One witness, truck driver Rudy Barillas, described how McDonald came at him with a knife less than 30 minutes before the shooting. It was Barillas' 911 call about McDonald allegedly breaking into vehicles that led to the police response.
Van Dyke only learned about McDonald's run-in with the truck driver after the shooting. And he knew nothing about McDonald's earlier run-ins with law enforcement.
"But he could say, 'Yeah, I didn't know that history at the time. But that history's consistent with how I saw him as a threat,'" Turner said.
Prosecutors will also likely ask Van Dyke to explain why only he, out of all the officers on the scene, saw fit to start shooting.
His lawyers may believe they already answered that question through an animated video they presented that purports to show the shooting from Van Dyke's perspective. In it, McDonald actually appears to be getting closer to Van Dyke when the officer fires.
The defense may conclude that video and other trial testimony already accomplished what any testimony by Van Dyke would aim to do: establish he had a legitimate fear of McDonald.
If he does testify, legal experts say, Van Dyke would need to stay calm under questioning by prosecutors. If he were to get angry or rattled, jurors could conclude that demonstrates he is hot-headed and capable of shooting someone without good reason.
"He needs to stay humble but also explain his reaction that night with real emotion," said Chicago-area attorney, Gal Pissetzky, who also thinks Van Dyke should testify. "He will have to give the performance of his life."