Democrats hold first presidential debate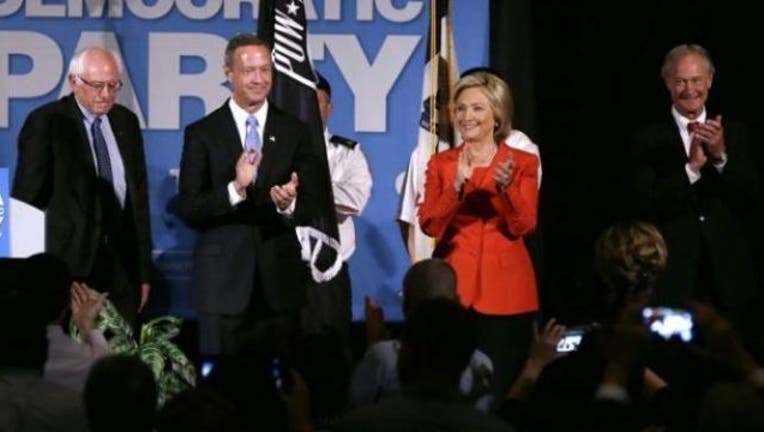 article
LAS VEGAS (AP) — Hillary Rodham Clinton and Sen. Bernie Sanders have clashed over U.S. involvement in the Middle East, gun control and economic policy in the first Democratic presidential debate.
Also taking part in the two-hour forum in Las Vegas were former Maryland Gov. Martin O'Malley; former Virginia Sen. Jim Webb and Rhode Island's Lincoln Chafee.
While the five candidates onstage took issue with each other, they also repeatedly sounded traditional Democratic themes — such as fighting income inequality — that are sure to carry over to the general election campaign against the Republicans.
There was one moment of levity and unity. Sanders jumped to Clinton's defense on the issue of her controversial email practices as secretary of state. Sanders said to Clinton "The American people are sick and tired are hearing about your damn emails." A smiling Clinton reached over to shake his hand and said, "Thank you, Bernie."
%@AP Links
268-a-11-(Hillary Rodham Clinton, Democratic presidential candidate, in debate)-"answer their questions"-Democratic presidential candidate Hillary Rodham Clinton says Republicans in Congress have politicized her use of a private email server while she was secretary of state. COURTESY: CNN Debate on Westwood One News ((mandatory on-air credit)) (13 Oct 2015)
<
267-a-16-(Bernie Sanders, Democratic presidential candidate, with Hillary Rodham Clinton, in debate)-"too, me too (laughter and applause fade)"-Democratic presidential candidate Bernie Sanders says he's tired of all the talk about Hillary Clinton's private email server. ((cut contains word "damn")) COURTESY: CNN Debate on Westwood One News ((mandatory on-air credit)) (13 Oct 2015)
<
276-a-07-(Lincoln Chafee, Democratic presidential candidate, in debate)-"common ground here"-Democratic presidential candidate Lincoln Chafee says the nation needs to reach a consensus on guns.COURTESY: CNN Debate on Westwood One News ((mandatory on-air credit)) (13 Oct 2015)
<
275-a-12-(Jim Webb, Democratic presidential candidate, in debate)-"family from violence"-Democratic presidential candidate Jim Webb says guns have a place in America.COURTESY: CNN Debate on Westwood One News ((mandatory on-air credit)) Updated: 10/13/2015-10:45:10 PM ET (13 Oct 2015)
<
277-a-16-(Martin O'Malley, Democratic presidential candidate, in debate)-"it to referendum"-Democratic presidential candidate Martin O'Malley says he was able to fashion reasonable gun reforms as governor of Maryland. COURTESY: CNN Debate on Westwood One News ((mandatory on-air credit)) Updated: 10/13/2015-10:45:11 PM ET (13 Oct 2015)
<
APPHOTO NVCC231: Sen. Bernie Sanders, of Vermont,, left, and Hillary Rodham Clinton laugh during the CNN Democratic presidential debate, Tuesday, Oct. 13, 2015, in Las Vegas. (AP Photo/John Locher) (13 Oct 2015)
<
APPHOTO NVCC245: Hillary Rodham Clinton, right, and Sen. Bernie Sanders, of Vermont, speak during the CNN Democratic presidential debate Tuesday, Oct. 13, 2015, in Las Vegas. (AP Photo/John Locher) (13 Oct 2015)
<
APPHOTO NVCC342: Sen. Bernie Sanders, of Vermont, left, speaks as Hillary Rodham Clinton looks on during the CNN Democratic presidential debate Tuesday, Oct. 13, 2015, in Las Vegas. (AP Photo/John Locher) (13 Oct 2015)
<
APPHOTO NVCC233: Democratic presidential candidates from left, former Virginia Sen. Jim Webb, Sen. Bernie Sanders, of Vermont, Hillary Rodham Clinton, former Maryland Gov. Martin O'Malley, and former Rhode Island Gov. Lincoln Chafee stand on stage during the CNN Democratic presidential debate Tuesday, Oct. 13, 2015, in Las Vegas. (AP Photo/John Locher) (13 Oct 2015)
<