Details of sex abuse could mean prison time for Hastert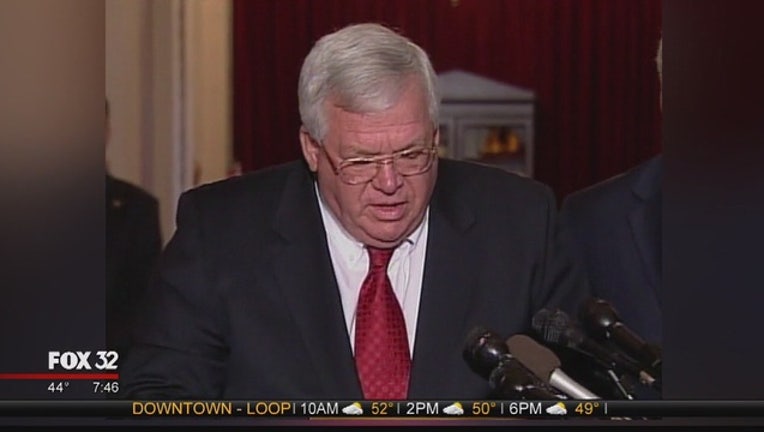 article
CHICAGO (AP) - When Dennis Hastert pleaded guilty last year to breaking banking laws, sentencing guidelines suggested that the former House speaker would probably serve no more than six months in prison for making illegal withdrawals to conceal a dark secret from his past.
But after prosecutors lifted a veil of secrecy from the case, the judge made comments that suggested he might impose a longer sentence, potentially putting Hastert behind bars for several years, because of allegations that he molested at least four student athletes when he was a high school wrestling coach.
Word that one of the accusers will speak at the sentencing hearing is sure to turn up the pressure on Judge Thomas M. Durkin to reject defense calls for probation and send the 74-year-old Republican to prison.
If that happens, Hastert, who was second in the line of succession to the presidency after the vice president and the nation's longest-serving GOP speaker, would become one of the highest ranking politicians in American history ever to be incarcerated.
Prosecutors have said they would have preferred to charge Hastert with a sex crime. But because the statute of limitations on sexual abuse ran out decades ago, they settled for banking violations. Hastert admitted evading financial regulations when he began withdrawing money to pay another victim $3.5 million to ensure his silence.
Authorities have made it clear they intend to treat the sex-abuse allegations, not the banking violations, as their focus at sentencing. Court practices generally allow discussion of a defendant's personal history and character, especially if some bad behavior is related to the crime.
___
POSSIBLE SENTENCE
Punishments available to the judge range from probation and home confinement to a maximum of five years in prison. Until this month, it was hard to gauge what Durkin might be thinking. But at a recent hearing, he let his dismay show for the first time.
The judge repeatedly singled out how Hastert in a 2015 interview with federal agents sought to deflect blame by falsely accusing Individual A of extorting him with a bogus sex-abuse claim. That lie happened last year, the judge said. And unlike the abuse allegations, it was not distant history.
The lie would factor into the sentencing calculations, Durkin added: "That's a big one."
Hastert's plea deal set the sentencing range from zero to six months in prison. But guidelines in federal court are just that: guides. Judges have huge discretion, so Durkin could impose a prison term of more than a year or two.
The defense asked for probation, citing Hastert's failing health and the price they say he's already paid in public humiliation. Prosecutors did not recommend a specific sentence, but their reference to sexual abuse on nearly every page of their 26-page sentencing memo strongly suggests they want notable prison time for Hastert.
___
SEX ABUSE ALLEGATIONS
Prosecutors did not confirm until recently that Hastert's case had anything to do with sexual abuse. When they finally did confirm it, they went into graphic detail, including how Hastert would sit in a recliner chair in the locker room with a direct view of the showers.
It was Individual D, the one who plans to testify Wednesday, who provided the detail about the chair. Individual D was 17 when Hastert abused him in a locker room after offering the teen a massage, according to court documents filed by the government. Hastert, it said, "removed Individual D's pants and told Individual D to turn over on his back. Defendant then performed a sexual act on Individual D."
The victims, prosecutors said, were between 14 and 17. Hastert was in his 20s and 30s. The abuse occurred in a motel and the locker room at Yorkville High School outside Chicago and included "touching of minors' groin area and genitals or oral sex with a minor," prosecutors said.
In court documents, the accusers, all males, are designated only by letters A through D. Only Stephan Reinboldt, who died in 1995, is named. His sister, Jolene Burdge, is the only other person scheduled to make a victim statement. She spoke previously to The Associated Press and other media organizations, saying that her brother told her about Hastert's conduct before his death.
___
HASTERT STATEMENT
It isn't clear whether Hastert will make a statement at the sentencing or whether any statement would include an apology.
Hastert has not personally apologized in any forum to date. In arguing for probation, defense attorneys described Hastert as apologetic, saying their client "is deeply sorry and apologizes for his misconduct that occurred decades ago and the resulting harm he caused to others."
Conspicuously absent was any mention of sexual abuse.
His lawyers may have risked raising the judge's ire in another related filing, in which they questioned whether what Hastert did to Individual A — including touching his genitals during a massage — legally constituted sexual abuse.
Prosecutors hit back at that defense notion in their sentencing memo: "There is no ambiguity; defendant sexually abused Individual A."
___
Follow Michael Tarm on Twitter at http://twitter.com/mtarm