Dog supposedly suffered from alcohol withdrawal, animal rescue says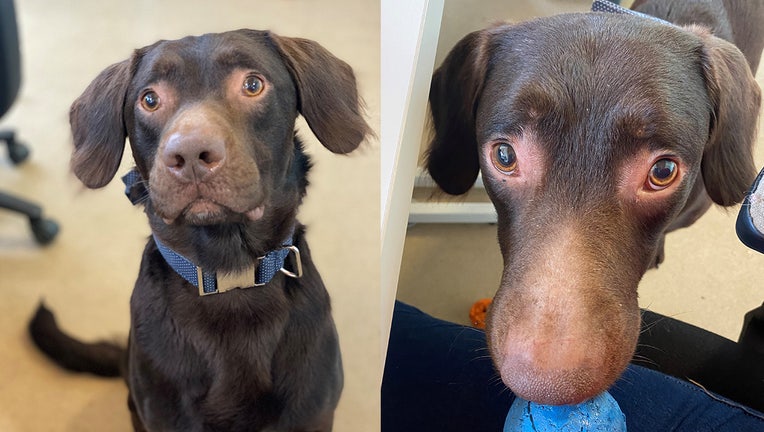 article
UNITED KINGDOM - An animal rescue in the United Kingdom helped save a dog who is recovering from an apparent alcohol addiction. 
According to Woodside Animal Rescue Trust, the Labrador named Coco required intensive care since arriving at the rescue due to "canine alcohol withdrawal" – a first that the organization has experienced. 
The rescue said Coco, along with another dog, arrived at the organization after his owner died. But, the two dogs "became quickly unwell," according to a post published on social media on April 4, with Coco's friend dying despite the rescue's best efforts. 
After requiring continuous care, the rescue said it "became clear" the dog was suffering from symptoms of alcohol withdrawal.
"He spent four weeks sedated to help with his withdrawal symptoms and to reduce the risk of further fits," the rescue explained.
They said Coco is now off all medication and is starting to behave like a normal dog.
RELATED: Husky dog who was called 'ugly' for crooked smile finds family who drives 2.6K miles to adopt him
However, the organization said he is not ready yet for adoption. While he physically seems to have recovered, the rescue said he is still very anxious at times.  
"His story is a tragic one and evidence how vital our special care unit is," the post continued. "Having the Dunroamin Unit has meant he has been able to be cared for in a more homely environment and away from the main kennels. This has most certainly made a difference to his recovery and overall wellbeing." 
It remains unknown how the dogs became addicted to alcohol, but the rescue noted that Coco would likely not have survived without their care.
You can donate or become a sponsor to help dogs like Coco here.
This story was reported from Los Angeles.