Drunken driver facing multiple charges after crashing into bench in Riverside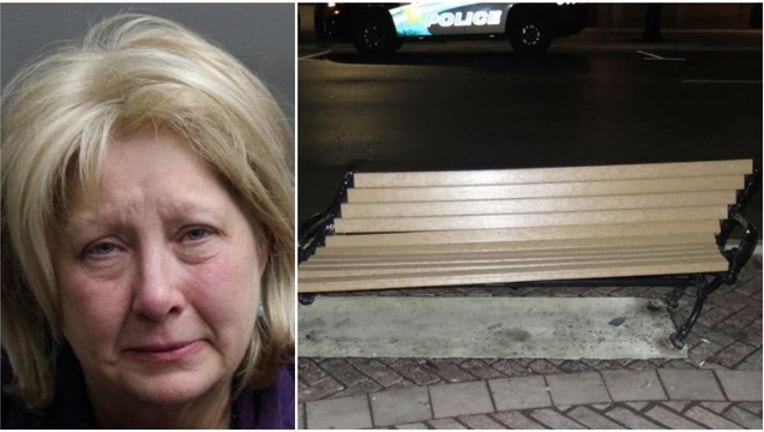 article
SUN TIMES MEDIA WIRE - A 61-year-old woman is facing multiple charges after crashing into a bench last week as she drove drunk on a sidewalk in west suburban Riverside.
Carol E. Florek, of Brookfield, was charged with driving under the influence of alcohol, failure to notify police after striking property, damage to village property, failure to reduce speed to avoid a crash, improper lane usage and no proof of insurance, according to Riverside Police.
At 8:37 p.m. Jan. 11, an officer was flagged down by a person who reported a hit-and-run crash in the first block of East Burlington, police said. The person noted that the female driver involved in the crash looked "highly intoxicated."
The 2003 Cadillac involved in the crash sustained heavy front-end damage after leaving the roadway, driving onto a sidewalk and striking a bench in Riverside's downtown business district, police said. Officers were able to track the Cadillac's license plate number to an address in the 3000 block of Maple in Brookfield, where Florek was found sitting behind the wheel in an alley.
Florek told the officer that she had eaten at a restaurant in the area of the crash before failing a series of field sobriety tests, police said. She was so intoxicated that she had a hard time standing up and fell numerous times as she was being taken to the Riverside Police Department for booking.
While in custody, Florek was "extremely aggressive and insulting," police said. In addition, she suggested that officers give her a "break" because she had never committed a similar offense.
Florek ultimately admitted to going out and drinking martinis before she was stopped by police. She also claimed that she had pulled over on her own at some point in the night because she felt it would be unsafe for her to keep driving, police said.