Election, voters near 'revolt' prompt Illinois budget deal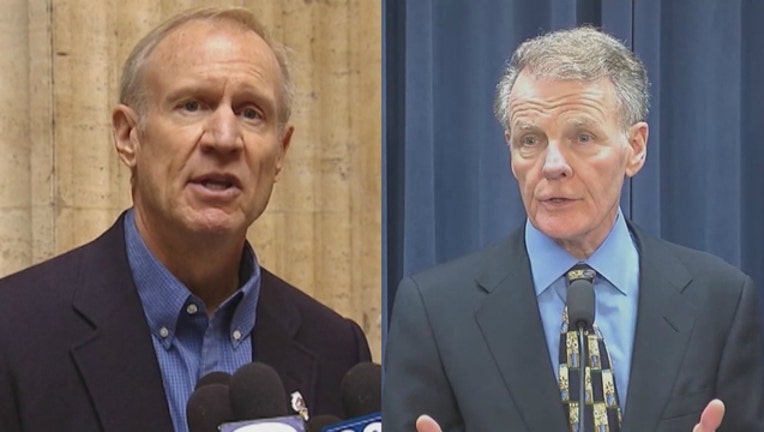 article
CHICAGO (AP) - After a year and a half of bickering and unbending demands, Illinois lawmakers were moved to compromise on a stopgap budget by a powerful force: a high-stakes November election and an already-disgusted voting public that one legislative leader described as on the verge of "revolt."
Republican Gov. Bruce Rauner signed legislation Thursday evening to keep the state government operating for six months and schools open for another year, a rare deal hammered out with Democratic leaders who control the General Assembly just days before Friday's start of the new fiscal year.
The plan approved Thursday allows Rauner and legislators up for re-election this fall to head into the campaign season without the looming threat of shuttered schools, lost road construction jobs, utility shutoffs at prisons or further cuts to colleges and social service agencies.
The pressure to avoid those crises had grown particularly intense in recent weeks as Illinois appeared headed toward a second full year with no spending plan — a dubious national record that has already led to thousands of laid-off workers and some 1 million people losing services such as mental health care and cancer screening.
Loudly chanting protesters — many of them union members opposed to Rauner's anti-labor agenda — have shown up at the first-term governor's stops, forcing him to move one event and to apologize to members of a church where his remarks were repeatedly interrupted by shouting outside.
Crain's Chicago Business, which endorsed the former private equity investor in his 2014 election, published an editorial last week titled "You've proved us wrong" that concluded, "By nearly every measure, the state is worse off since Rauner took office."
Rauner wasn't the only one taking heat. On Wednesday, dozens of Illinois newspapers ran front page editorials demanding both sides get to work on a resolution, many with headlines such as "Enough" and "Do your job." The national satirical news program "The Daily Show" aired a segment about the impasse, in which the reporter compared two legislators to "Muppets" characters and suggested — in impolite terms — that young people should get out of Illinois.
"To leave this building today without having some sense of accomplishment with respect to fundamental, vital services that we owe to citizens in Illinois would be atrocious," House GOP Leader Jim Durkin said during Thursday's votes. "It would be unacceptable, and the public revolt would be one which we have never witnessed before."
The November statehouse election is seen as critical as Republicans look to pick up enough seats to end the supermajorities Democrats hold in both chambers. They see their best hope in the House, and the GOP already is spending heavily — bankrolled in part by millions from Rauner's pocket — on ads bashing Democratic lawmakers they see as vulnerable.
Democratic House Speaker Michael Madigan, meanwhile, wants to expand his majority so he'll have the ability to regularly override Rauner's vetoes.
Within minutes of Thursday's votes, both sides were claiming victory.
Madigan said the deal came together only because Rauner dropped his insistence that lawmakers also approve his "personal" agenda, which includes weakening labor unions and cutting workers' compensation costs for businesses. Madigan and other Democrats have refused to make those items a condition of a budget agreement, saying they would hurt the middle class and vulnerable residents.
But Democrats also were forced to give. The final deal spends less on education and other areas than Democrats wanted, and a measure to provide $215 million to help the near-broke Chicago Public Schools make its contribution for teacher pensions is contingent on lawmakers approving a separate plan to overhaul statewide pensions — a move that will anger labor unions, among the party's staunchest supporters.
Republicans congratulated themselves for stopping the majority party from ramming through a tax increase or a budget that's billions of dollars out of balance. And Rauner said he agreed to negotiate a deal only after Democrats gave their word that they will work with him to pass some of his agenda after the election.
"Our efforts to get significant reform for the people of Illinois will never cease," Rauner said.
Echoing themes from his 2014 campaign, he also framed the upcoming election as a choice for voters between the continued financial problems he says were created by Democrats or a new, Republican approach to creating more economic growth.
"In many ways I don't know of a more important election than Nov. 8," he said.
___
Associated Press writer Ivan Moreno contributed from Springfield, Illinois.