EPA detects highest level of carcinogens at Illinois Sterigenics plant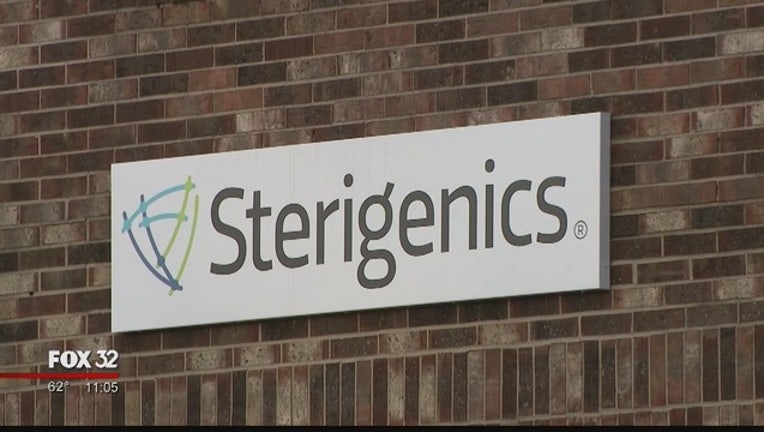 CHICAGO (AP) - Government air monitors recently detected the highest level of a cancer-causing chemical near a suburban Chicago plant since testing began at the site, the U.S. Environmental Protection Agency said.
The EPA released data Thursday pertaining to ethylene oxide levels at the Sterigenics U.S. facility in Willowbrook, which sterilizes medical instruments, The Chicago Tribune reports reported. Federal officials began investigating the plant in 2017 after a federal report found unusually high cancer risks due to toxic chemicals.
The plant's highest daily average concentration of the chemical in January was found to be 14.3 micrograms per cubic meter of air, according to the data. That's a more than 20 percent increase compared to rates recorded in December.
Exposure to 2.1 micrograms could cause about six cases of cancer for every 1,000 people exposed, according to the Centers for Disease Control and Prevention. About 19,000 residents in DuPage County live within a mile of the facility.
The Illinois EPA ordered the facility to shut down a week ago because of the levels. A judge denied the company's effort to lift the ban. Sterigenics officials have declined comment.
U.S. Rep. Dan Lipiniski said the latest figures support the decision to halt operations.
"Unless and until significant changes are made to how the facility controls its emissions, it must not be allowed to reopen," he said.
Residents worry that they will continue to feel the effects of the plant's emissions despite its closure. Ethylene oxide has an estimated half-life of 69 to 149 days, so the gas could linger in the air, according to the EPA.
"It could be months to go before we get clean air," said Willowbrook resident Sri Rao, who's one of the organizers between the Stop Sterigenics group.
The EPA will continue monitoring at the plant until the end of the month. The agency plans to hold a public meeting on its findings in May.
___
Information from: Chicago Tribune, http://www.chicagotribune.com