Father Michael Pfleger accused of sexually abusing minor decades ago
CHICAGO - Father Michael Pfleger of St. Sabina Church on the South Side is stepping aside from his duties, for now, after being accused of sexual abusing a minor more than 40 years ago.
The announcement of the "difficult news" was made Tuesday by Cardinal Blasé Cupich, who asked Pfleger to step aside from ministry while an investigation takes place.
Cupich said Pfleger has agreed to cooperate fully with his request to step aside and that he will live away from the parish while the allegation is investigated.
The allegation has also been reported to the Illinois Department of Children and Family Services and the Cook County state's attorney's office, Cupich said.
In the meantime, Father Thulani Magwaza will serve at temporary administrator of Saint Sabina Parish and will attend to the needs of the parish and school community, Cupich said.
"It is crucial that you know nothing is more important than the welfare of the children entrusted to our care. The Archdiocese of Chicago takes all allegations of sexual misconduct seriously and encourages anyone who feels they have been sexually abused by a priest, deacon, religious or lay employee to come forward," Cupich said in a statement.
Pfleger did not immediately respond to a request for comment Tuesday evening.
He released a statement on social media Wednesday morning: "I can't possibly respond to the hundreds of Texts, emails, and calls that I have received from all across the nation since yesterday. I am devastated, hurt and yes angry, but I am first, a person of Faith, I Trust God. Please keep me in prayer and the Faith Community of St. Sabina. I have been asked by the Diocese not to speak out at this time. I am Blessed with good leadership and amazing members, whom I love.. Pray also for the person, my life is more than a 40 year old accusation, and on that and my Faith I will stand...The Lord is my Shepherd..... I love you...."
Telephone calls to the church for comment were not answered. However, St. Sabina leaders released a statement saying they believe the accusations are unfounded and stand behind the integrity of Pfleger.
"His ministry spans over 45 years and he has maintained his mission of Luke 4:18, to proclaim good news to the poor, proclaim freedom to the prisoners, sight to the blind and set the oppressed free," the St. Sabina cabinet said in the statement.
Pleger has served as pastor at St. Sabina Church since 1981. In the decades since his appointment, he has become one of Chicago's most well-known voices against gun violence, leading annual "peace marches" that routinely draw hundreds of attendees, including the likes of Chance the Rapper and survivors of the Parkland school shooting.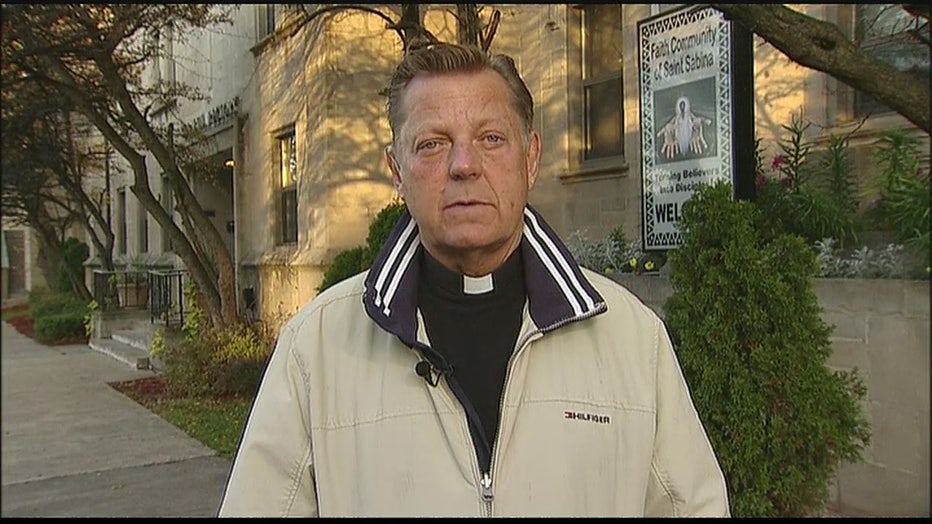 Father Michael Pfleger of St. Sabina Church
His latest march came as recently as New Year's Eve, when he led about 150 people down Michigan Avenue to plead for city leaders to recognize the "virus of violence."
Sun-Times Media Wire and Associated Press contributed to this report.