FBI arrests Massachusetts Air National Guardsman Jack Teixeira in probe of classified document leaks
NORTH DIGHTON, Mass. - FBI agents arrested Massachusetts Air National Guardsman Jack Douglas Teixeira at a home in North Dighton, Massachusetts, on Thursday in connection with a trove of classified documents that have been leaked online in recent months. 
Attorney General Merrick Garland said that Teixeira, 21, is being investigated for the "alleged unauthorized removal, retention, and transmission of classified national defense information."
Teixeira, who joined the Air National Guard in September 2019, held the highest level of security clearance granted by the federal government for top-secret information, according to an internal Department of Defense email reviewed by Fox News. 
His security clearance and access to classified government systems have since been revoked, according to another internal government document.
Teixeira was most recently stationed at Otis Air National Guard Base as a member of the 102nd Intelligence Wing. He was promoted to Airman 1st Class last July, according to the unit. 
The National Guard said in a statement it is aware of the "alleged role a Massachusetts Air National Guardsman may have played in the recent leak of highly-classified documents" from the Pentagon.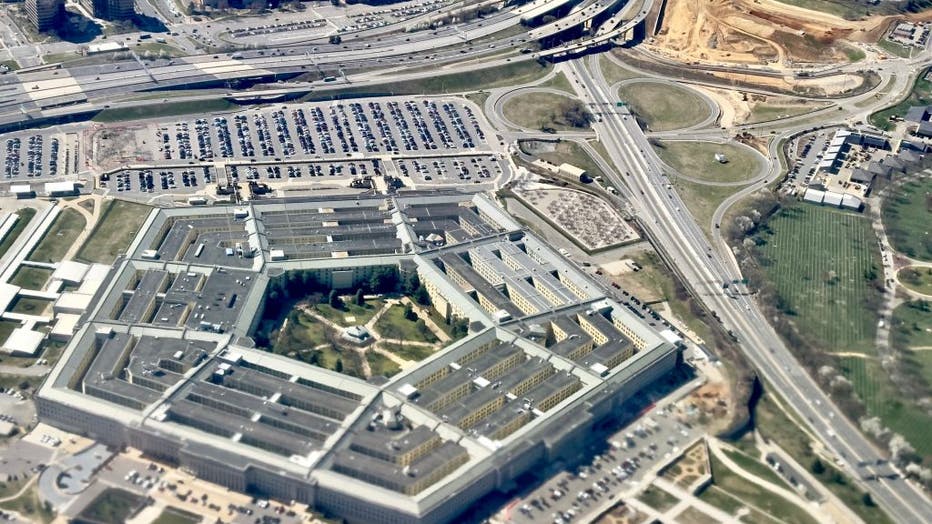 This aerial photograph taken on March 8, 2023 shows The Pentagon, the headquarters of the US Department of Defense, located in Arlington County, across the Potomac River from Washington, DC. (Photo by Daniel SLIM / AFP) (Photo by DANIEL SLIM/AFP via
"The National Guard takes this issue very seriously and will support investigators," the National Guard said in a statement. "National security is our foremost priority and any attempt to undermine it compromises our values and degrades trust among our members, the public, allies and partners."
Pentagon Press Secretary Brig. Gen. Pat Ryder called the leaks a "deliberate criminal act," saying that distribution lists for classified information are being reviewed. 
"We entrust our members with a lot of responsibility at a very early age," Ryder said at a press conference on Thursday. 
"You've received training and you will receive an understanding of the rules and requirements that come along with those responsibilities, and you're expected to abide by those rules, regulations and responsibility. It's called military discipline. And in certain cases, especially when it comes to sensitive information, it also is about the law."

SUBSCRIBE TO FOX 32 ON YOUTUBE
The New York Times originally identified Teixeira as the suspected leaker on Wednesday evening, reporting that he was the leader of a Discord group called "Thug Shaker Central" that consisted of roughly 20 to 30 young men.
Teixeira allegedly started sharing classified documents with the private group in recent months, but the leaks gained wider attention after another member shared them in a public forum, according to the report. 
Deputy Secretary of Defense Kathleen Hicks sent a memo to Pentagon officials on Tuesday, warning employees against leaking classified information or downloading classified documents from unclassified sources. 
"Do not access or download documents with classified markings from unclassified websites – either from home or work – as the data may be classified, it may be associated with hostile foreign elements, or it may contain malicious code or embedded capability that could introduce cyber threats into our information system," Hicks wrote in the memo, which was obtained by Fox News. 
President Biden said earlier Thursday that the U.S. was "getting close" to finding the person responsible for leaking Pentagon documents that the Department of Defense has described as containing "sensitive and highly-classified material."  
"I can't right now [give an update]. There is a full-blown investigation going on with the intelligence community and Justice Department and they are getting close," Biden told reporters during his trip to Ireland. "I don't have an answer for you."  
The president also said, "I'm concerned that it happened, but there is nothing contemporaneous that I'm aware of that is of great consequence."  
The leaked documents mainly concern Russia's invasion of Ukraine, but also include intelligence on China, the Middle East, Israel's spy agency Mossad, and world leaders. 
U.S. defense officials previously told Fox News that this leak could be "bigger than Snowden" in terms of damage to intelligence and allied relationships. 
Teixeira is expected to make his first court appearance sometime on Friday between 10 a.m. and 2 p.m., a source with the U.S. Attorney's Office for the District of Massachusetts said. 
Fox News' Sarah Tobianski and Lorraine Taylor contributed to this report.
For more, go to Fox News.