Federal agents raid Caterpillar offices in Peoria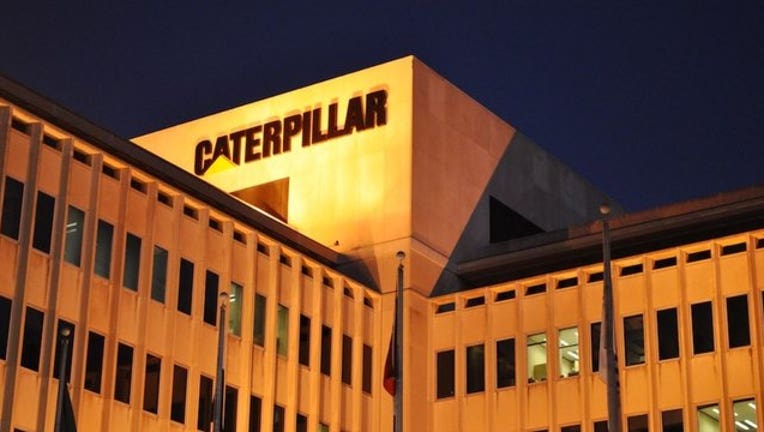 article
CHICAGO (AP) - Federal law enforcement officials raided three central Illinois facilities of manufacturer Caterpillar on Thursday as part of an investigation the company said may be related to business with its Swiss subsidiary CSARL.
Officials from three federal agencies, some wearing jackets that said "police, federal agent", searched the Peoria, Illinois, headquarters of Caterpillar, one of the world's largest makers of construction and other heavy equipment. Facilities in East Peoria and Morton, Illinois, also were raided under a federal warrant, U.S. Attorney's office spokeswoman Sharon Paul said.
"We believe the execution of this search warrant is regarding, among other things, export filings that relate to the CSARL matter," Caterpillar said in a statement later on Thursday, referring to its Swiss subsidiary.
Caterpillar spokeswoman Corrie Heck Scott said in an email that the company was cooperating with law enforcement.
Paul said the agencies involved included the Internal Revenue Service's criminal investigation unit, the U.S. Department of Commerce Office of Export Enforcement and the Federal Deposit Insurance Corp.'s office of inspector general. She declined to comment further on the details of the investigation.
The exact reason for the raid was unclear, but Caterpillar told the Securities and Exchange Commission in a filing last month that the IRS had notified the company it owed $2 billion more in taxes for the years 2010 to 2012 because of profits from its Swiss unit. Caterpillar said it would "vigorously contest" the tax bill.
"We believe that the relevant transactions complied with applicable tax laws and did not violate judicial doctrines," Caterpillar said.
Two years ago the SEC notified Caterpillar that it was conducting an "informal investigation" relating to CSARL and asked the company to preserve relevant documents.
SEC spokesmen in Washington declined to comment Thursday.
A 2014 report by U.S. Senate Democratic staff said that Caterpillar had avoided paying $2.4 billion in U.S. taxes since 2000 by shifting profits to the affiliate in Switzerland.
The report said Caterpillar paid PricewaterhouseCoopers LLP $55 million to develop the tax strategy. Under the strategy, Caterpillar transferred the rights to profits from its parts business to a wholly controlled Swiss affiliate called CSARL, even though no employees or business activities were moved to Switzerland, the report said.
In exchange, CSARL paid a small royalty, and the income was taxed at a special rate of 4 to 6 percent that Caterpillar negotiated with the Swiss government, the report said.
Before the arrangement, 85 percent of the profits from the parts business were taxed in the U.S., the report said. Afterward, only 15 percent of the profits were taxed in the U.S. The rest was taxed at the special rate in Switzerland, the report said.
Last month, Caterpillar said in a filing with the SEC that it was "vigorously contesting" a notice from the IRS that it owed $2 billion more in U.S. taxes for the years 2010 to 2012 from profits earned by the Swiss unit CSARL.
"We believe that the relevant transactions complied with applicable tax laws and did not violate judicial doctrines," Caterpillar said.
Shares of Caterpillar, which have risen 35 percent over the past year, went into steep decline just before noon as word of the raid on company headquarters and other facilities began to spread, falling almost 5 percent before recovering slightly to close at $94.36.
The case could have a substantial impact on Caterpillar, especially if the government were to secure a criminal conviction.
"There are collateral consequences that can be as significant, if not more significant, than the fines themselves" that companies must pay in such cases, said Thomas Cooke, professor at Georgetown University's McDonough School of Business.
One potential consequence that could be huge, Cooke noted: The company could be stripped of its ability to bid for federal contracts. If that happened, it would come just as President Donald Trump's $1 trillion plan to shore up the nation's roads, bridges and airports - and create jobs - is being put forward.
Caterpillar would normally be a major player in a national infrastructure plan. The company's chairman and former CEO, Doug Oberhelman, was among two dozen manufacturing CEOs who met with Trump at the White House last week, committing to restoring factory jobs lost to foreign competition.
In January, Caterpillar announced it plans to move its global headquarters and about 300 top jobs to the Chicago area after decades in Peoria. Caterpillar also scrapped plans to build a new headquarters in downtown Peoria, which is located about 175 miles southwest of Chicago.
___
AP Business Writers Matthew Ott and Marcy Gordon in Washington, D.C., contributed to this report.