Fire honcho charged with misdemeanor DUI after crashing SUV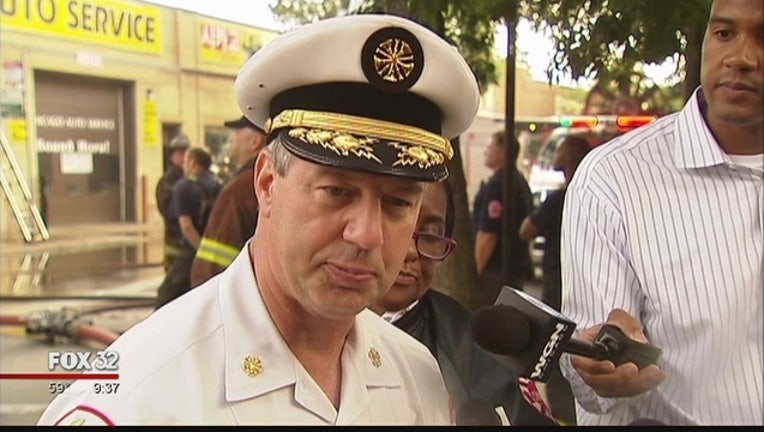 article
CHICAGO (SUN TIMES MEDIA WIRE) - The Chicago Police Department agreed Wednesday to charge the former third-ranking member of the Chicago Fire Department with misdemeanor DUI for crashing his city-owned SUV near Lake Shore Drive in Lincoln Park with a blood alcohol level nearly twice the legal limit.
Police spokesman Anthony Guglielmi disclosed the belated charges against former Deputy Fire Commissioner John McNicholas one day after the Cook County State's Attorney declined to charge McNicholas with felony DUI, the Chicago Sun-Times is reporting.
The state's attorney's office concluded that the April 20 accident did not meet the "legal elements of a felony DUI, including "prior convictions and great bodily harm." But spokesperson Sally Daly told the police department it was "within their discretion" to charge McNicholas with misdemeanor DUI.
On Wednesday, the police department did just that.
"The Major Accidents section reviewed the findings and they decided to go ahead and charge misdemeanor DUI based on evidence discovered, including a blood alcohol level obtained by the Fire Department's Internal Affairs Division," Guglielmi said.
Guglielmi also disclosed that an investigation by the police department's Internal Affairs Division aimed at determining whether McNicholas received favored treatment is "nearing completion."
Police Supt. Eddie Johnson will be briefed on the findings "in a week or two," the spokesman said. If there is evidence that police officers or firefighters who responded to the scene of the accident treated McNicholas any differently than they would have treated a private citizen, they will be disciplined, Guglielmi said.
"It could be anything from a one-to-two-day suspension all the way up. It just depends if they find any evidence that the incident was handled inappropriately," Guglielmi said.
Guglielmi was asked what other explanation there could be for the fact that neither a field sobriety test nor a Breathalyzer at the nearest district station was administered to McNicholas.
When a Breathalyzer was finally administered at 4:32 a.m. at Fire Department headquarters, McNicholas had a blood alcohol level of 0.154 — nearly twice the legal limit, officials have said.
"I don't know. It's too early for me to comment. The investigation is almost completed, but not yet. They've interviewed everybody who responded to the call, including firemen," Guglielmi said.
The crash that sent City Hall scrambling into an all-too-familiar damage-control mode happened about 12:50 a.m. on Wednesday, April 20.
McNicholas was driving his Chicago Fire Department SUV west on LaSalle Drive just off Lake Shore when another vehicle cut him off, police said. The SUV swerved to avoid a collision, went over a curb and struck a utility pole. No one was hurt, but the vehicle was heavily damaged.
Instead of calling 911 and having the conversation recorded, sources said McNicholas called a "black phone" at 911 center that is not recorded.
The call taker noticed immediately that the deputy commissioner sounded as if he had been drinking and followed protocol by dispatching a battalion chief and deputy district chief along with police officers, sources said.
McNicholas was well known to the call takers. His father once served as a Fire Alarm office supervisor. His son is a police officer.
McNicholas resigned after the accident. His annual pension of $100,501 was approved on June 15 by the Chicago Firemen's Annuity and Benefit Fund. His pension is based upon 75 percent of his final average salary. McNicholas served more than 36 years with the department.
The failure by police officers to administer either a field sobriety test or a Breathalyzer to McNicholas has raised questions about whether McNicholas was given preferential treatment by police.
It comes at a time when Johnson is struggling to regain public trust shattered by the video of white Police Officer Jason Van Dyke pumping 16 rounds into the body of black teenager Laquan McDonald.
Mayor Rahm Emanuel has acknowledged that there is a code of silence in the Police Department as evidenced by some of Van Dyke's fellow officers appearing to tailor their stories to match his. They claimed McDonald was aggressively moving toward Van Dyke with a knife in his hand when he was walking away or already on the ground.
Police handling of the crash involving McNicholas has raised questions about whether that code of silence extends to the Fire Department. IAD will soon provide an answer to those questions.