Former elected official accused of using political badge to escape arrest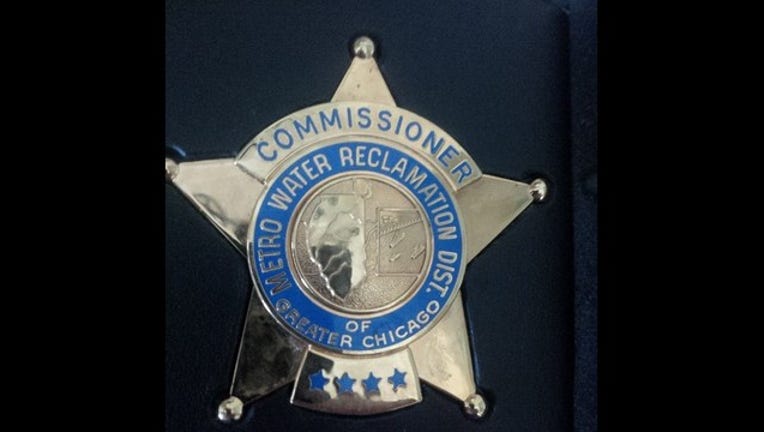 You probably remember that old movie line: "We don't need no stinking badges." Well, you won't hear that from some Illinois politicians.
FOX 32 News has learned that a former elected official is being accused of using her political badge to try to get out of an arrest.
FOX 32 investigator Dane Placko said it's raising questions about why politicians are getting badges in the first place.
"Yeah, that's the badge," said Eric Sloss.
Sloss is a Chicago landlord who said he was recently badge-bullied by former Water Reclamation District commissioner Patricia Horton.
"She told someone that she was a county official. Pulled the badge out of her wallet that was in her purse and flashed it," Sloss said.
It allegedly happened outside a Daley Center courtroom last fall. A Cook County judge had just ordered Horton to pay Sloss several thousand dollars for back rent and damage to an apartment he had rented to Horton and her family.
Sloss said Horton and others in her group began to threaten him, and he notified a Cook County Sheriff's Deputy. Sloss said when the deputy told Horton to calm down, she pulled a Metropolitan Water Reclamation District commissioner's badge from her purse.
"She was just ranting and raging, and then one of the officers came back and said yeah, she's got a county badge. She says she's a county official. And I told them no she's not," Sloss said. "Yeah, like she was trying to clout her way out."
Apparently, it didn't work. Horton was arrested and charged with simple assault.
FOX 32: [Sloss] says when you were about to be arrested you reached into your purse and pulled out a badge.
"(Laughs) that's not true," Horton said.
Horton admits she frequently carries the badge in her purse, even though she was voted out of office in 2010.
"Well I don't know whether it's right or wrong to carry [the badge] around in my purse. I just knew it was mine and I had it in my wallet. I never took it out," Horton said.
"It's authority. It's power. It's giving something that they shouldn't have. It's a perk," said Susan Garrett of Illinois Campaign for Political Reform.
Garrett said there's a long history of badge abuse by Illinois politicians, and questions the longstanding practice of handing them out to some elected officials like cracker jack prizes.
"There's no way a politician should have access to badges. Those badges are for a specific reason, for official, genuine law enforcement officers," Garrett said.
Chicago aldermen also get badges, based on an 1872 municipal law that makes them peace officers.
Horton is now running for a seat on the City Council. Her opponents are highlighting her arrest.
"This is a political plot. This is politically motivated because there are people out there who know I am running for third ward alderman. And they're doing everything that they can to try to staunch or mess up my good record," Horton said.
"I wouldn't vote for Patricia Horton for dog catcher," Sloss said.
Horton is asking for a jury trial when she goes to court on her assault charge next month. The head of the Water Reclamation District told FOX 32 News that it's been a tradition to give commissioners a badge, but said it's a practice they might review given these allegations.