Fourth teenager charged with murder in West Chicago homicide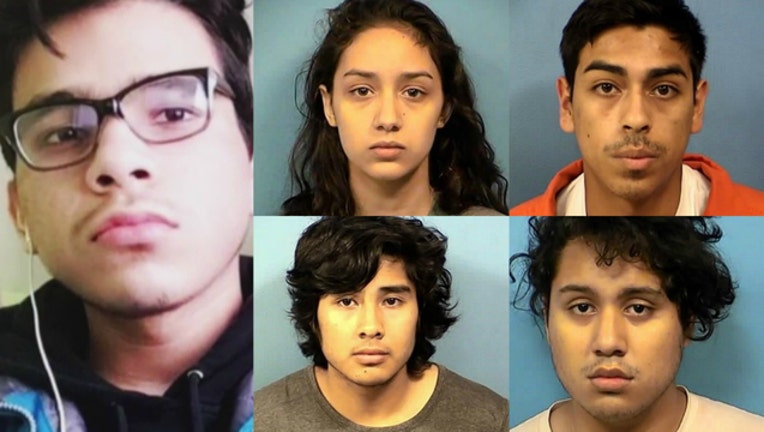 article
WEST CHICAGO (Sun-Times Media Wire) - A fourth teenager has been charged in the death of an 18-year-old man whose body was found burning earlier this month in West Chicago.
Saul Ruiz, 18, a resident of the west suburb, was denied bail and charged with first-degree murder, according to a Saturday statement from the DuPage County state's attorney's office. Ruiz was also charged with armed robbery.
Also on Saturday, Jesus Correa — already jailed on $100,000 bail — had his initial charge of concealment of a homicidal death upgraded to first-degree murder. Two other teens; Francisco Alvardo, an 18-year-old from West Chicago; and Tia Brewer, a 16-year-old from unincorporated Wheaton; have been held without bail on first-degree murder charges.
About 11:30 a.m. on Aug. 14, members of the West Chicago Fire Department were conducting a training exercise when they came across the smoldering body of 18-year-old Luis Guerrero in the 1300 block of Joliet Street, prosecutors said.
Investigators say the four teens plotted Guerrero's murder for a month before arranging to meet him the evening of Aug. 13 at a Burger King near the West Chicago Public Library. Ruiz waited in the parking lot of the library before Alvardo and Brewer began stabbing and punching Guerrero while Ruiz held him down, prosecutors said.
The trio stole Guerrero's backpack, loaded him into a Jeep Cherokee and took him to an area off Joliet Street, where they tortured and beat Guerrero "as he begged for his life," prosecutors said.
They then called Correa and asked him to bring gasoline, and he arrived to join the beating before Brewer doused Guerrero with fuel and lit him on fire, prosecutors said.
Guerrero tried to run away, but Alvarado and Brewer ran him over with the Jeep and brought him back to a fire pit to light him on fire again, prosecutors said. They then allegedly placed a picnic table over the body.
Alvardo, Brewer and Correa were arrested Aug. 15. Further investigation led authorities to Ruiz and the upgraded charges against Correa, prosecutors said.
Authorities have not commented on a possible motive. DuPage County State's Attorney Robert Berlin said Saturday that "the facts alleged in this case are some of the most grisly and horrific I have seen in my 30 years as a prosecutor.
"The tremendous pain and suffering allegedly inflicted by these defendants is inconceivable, and, if convicted of this heinous crime, each of these defendants is facing a lifetime behind bars for the vicious murder of Luis Guerrero," Berlin said.
The next court date for Alvardo and Brewer was scheduled for Sept. 13. The next court date for Ruiz and Correa was scheduled for Sept. 17.