Global stocks tumble after Britain votes to leave the EU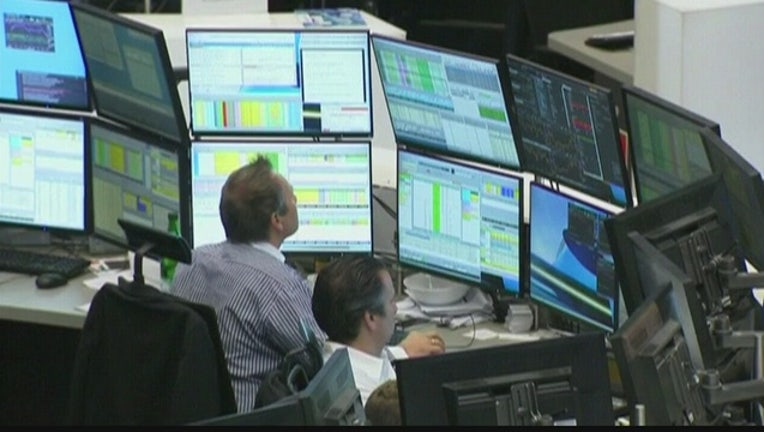 article
NEW YORK (AP) -- Stocks are plunging in the U.S. and worldwide Friday after Britain voted to leave the European Union. The result stunned investors, who reacted by rushing to the safety of gold and U.S. government bonds as they wondered what will come next for Britain, Europe and the global economy.
U.S. stocks took far smaller losses than markets in Europe and Asia, but were still sharply lower. The Dow Jones industrial average was down 503 points, or 2.8 percent, to 17,508 as of 12:45 p.m. The S&P 500 is on pace for its biggest loss since last August, down 62 points, or 2.9 percent, to 2,051. The Nasdaq composite dropped 172 points, or 3.5 percent, to 4,737.
The vote brought a massive dose of uncertainty to financial markets, something investors loathe. Traders responded by dumping riskier assets that appeared to have the most to lose from disruptions in financial flows and trade: banks, technology companies and makers of basic materials.
Britons voted to leave the EU over concerns including immigration and regulation. It's far from clear what that will mean for international trade or for Europe, as the EU, which was formed in the decades following World War II, has never before lost a member state.
"This vote is a step away from free trade," said Bob Doll, chief equity strategist Nuveen Asset Management. "When you add to it the specter of the last couple of years of terrorism it causes the average individual ... to be more nationalistic, more populist, more protectionist."
Bond prices surged and yields fell. The yield on the 10-year U.S. Treasury note dropped to 1.56 percent from 1.75 percent on Thursday, a large move.
Banks took the largest losses by far. Citigroup plummeted $3.56, or 8 percent, to $40.90 and Bank of America fell 96 cents, or 6.8 percent, to $13.08.
Technology stocks also took hefty losses. Microsoft fell $1.94, or 3.7 percent, to $49.97 and IBM gave up $7.29, or 4.7 percent, to $148.06.
Banks have the most to lose in Britain's departure from the EU as they do a lot of cross-border business in Europe based from their offices in London. They also become less profitable when bond yields fall, since that lowers interest rates on many kinds of loans such as mortgages.
Safety assets soared. Gold jumped $58.70, or 4.6 percent, to $1,322 an ounce. That's its highest price since July 2014. The price of silver climbed 42 cents, or 2.4 percent, to $17.77 an ounce. The higher metals prices send mining stocks higher. Newmont Mining rose the most in the S&P 500 index. It gained $1.53, or 4.3 percent, to $36.92.
Investors also bought utility companies while other parts of the market took big losses. Duke Energy rose 75 cents to $82.80 and Consolidated Edison gained $1.54, or 2 percent, to $78.40. Phone companies, also traditionally safe investments, took much smaller losses than other industries.
The vote will start years of negotiations over Britain's trade, business and political links. Observers wonder if other nations will follow in Britain's footsteps by leaving the EU.
"This is a negative in economic terms for the UK," said David Kelly, chief global strategist at JPMorgan Asset Management. "The EU will be very tough negotiators with them."
The Federal Reserve said it is carefully monitoring financial markets and cooperating with central banks overseas.
Investors had sent stocks higher this week as they gradually grew more confident, based on polls and the changing odds in the betting market, that Britain would stay in the E.U. They sent the pound to its highest price of the year and sold bonds, pushing their yields higher. Those gains were rapidly undone Friday.
Britain's FTSE 100 dropped 3.1 percent. At one point it was 8 percent lower. The German DAX index sank 6.8 percent and France's CAC 40 index tumbled 8 percent.
The pound hit its lowest level since 1985 before recovering slightly to trade at $1.3744. That's still far below the $1.4808 it traded at late Thursday in New York.
Oil prices fell sharply. Benchmark U.S. crude lost $2.34, or 4.7 percent, to $47.77 a barrel in New York. Brent crude, the international benchmark, fell $2.40, or 4.7 percent, to $48.51 a barrel in London.
Japan's Nikkei 225 finished the wild day down 7.9 percent, its biggest loss since the global financial crisis in 2008. South Korea's Kospi sank 3.1 percent, its worst day in four years. Hong Kong's Hang Seng index tumbled 4.4 percent and stocks in Shanghai, Taiwan, Sydney, Mumbai and Southeast Asian countries were sharply lower.
In other currencies, the dollar fell to 102.24 yen from 104.47 yen while the euro weakened to $1.1109 from $1.1351.