Good Samaritans save injured deputy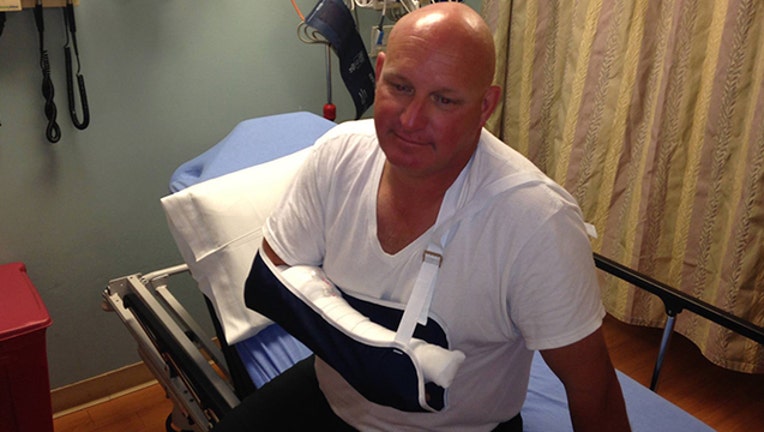 article
Polk County, FL - An injured sheriff's deputy thanks Good Samaritans for helping him catch a suspect and preventing further injuries.
Polk County Sheriff's Office Deputy Mike Walsh was chasing a driver for allegedly not stopping at a stop sign. Once the vehicle finally stopped, the suspect, identified by authorities as 32-year-old Corey Johnson, jumped out of his car and punched Walsh. The deputy was knocked to the ground.
"Johnson then straddled Walsh across his chest and continued to punch him and attempting to remove his gear from his duty belt," the sheriff's department said on Facebook. "Walsh kept one hand firmly on his firearm so that the suspect could not remove it, and was able to flip the suspect off of him, at which time the suspect fled on foot."
Several passing motorists witnessed the incident and stopped to assist. George Cooper rushed to assist Walsh. Antonio Velazquez stopped his car and attempted to tackle Johnson as he fled. By that time, Walsh got up and also assisted in detaining the suspect. Christopher Carver saw the struggle and also stopped to help. Johnson continued to actively resist all four men's efforts to subdue him. Walsh's stun gun and radio microphone headset were broken during the fight. Through the efforts of the three Good Samaritans, Deputy Walsh was able to take the suspect into custody and call for back-up.
Walsh suffered numerous bruises and abrasions. Officials credit his his motorcycle helmet for deflecting some of the blows to his head. He also suffered a broken thumb.
Johnson, 32, was booked into the Polk County Jail. He has been charged with Aggravated Battery on a Law Enforcement Officer, Resisting an Officer with Violence, Resisting an Officer without Violence, Depriving an Officer of Means of Communication, Felony Criminal Mischief, Fleeing or Attempting to Elude a Law Enforcement Officer, and Driving While License Suspended or Revoked.
He has been in the Polk County Jail on 7 prior occasions, according to the sheriff's office. He had several Polk County active warrants for incidents including domestic violence, grand theft, robbery and resisting an officer.