Governor's Day at state fair puts focus on November election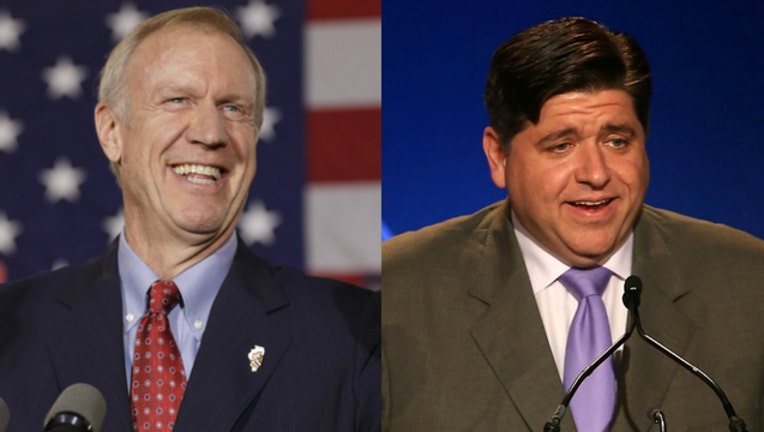 SPRINGFIELD, Ill. (AP) - Illinois Republicans, led by Gov. Bruce Rauner, rallied the faithful Wednesday by pledging to make the GOP the state's majority party in the November election.
Republicans at the annual Governor's Day at the Illinois State Fair were buoyed by predicted thunderstorms that failed to materialize for their fairgrounds festivities Wednesday afternoon and by the deflation of Democrats who hoped to one-up their opponents on their day Thursday with keynoter Joe Biden. The former Democratic vice president canceled because of illness.
"Freedom and opportunity, limited government, lower taxes, individual liberty, personal responsibility, the values that have made America the greatest nation on earth are the values of our Republican Party, and are the reason we're going to become the majority party in the state of Illinois in the future," Rauner said as he took the stage after Republican candidates for attorney general, secretary of state, comptroller and treasurer.
Rauner stuck to a familiar theme by attacking Michael Madigan, the Illinois Democratic House speaker whose success at thwarting the conservative agenda Rauner brought to office in 2015 has earned him more mentions by name at GOP gatherings than most Republican politicians themselves.
Madigan, who is also the state Democratic Party chairman, is largely the reason the party holds 67 House seats to 50 for the Republicans, rules the Senate 37-22 and holds four of six statewide offices.
Not surprisingly, Rauner tied Madigan, speaker longer than any other state legislator in U.S. history, to his gubernatorial opponent, billionaire businessman J.B. Pritzker, claiming that the two Democrats are in cahoots to raise income taxes and crush jobs.
"Everything is on the line. The fundamental question: Can we continue to fight back and break the stranglehold that the Madigan machine has had on our state and grow jobs, cut taxes, get term limits, end the corruption?" Rauner asked the crowd. "Can we continue on the battle to save our state, or will be fall backward?"
The broadsides came from "a failed governor with no accomplishments to run on, so he's resorted to desperate rants," Pritzker spokeswoman Jordan Abudayyeh said. Steve Brown, Madigan's spokesman, characterized the remarks as "more falsehoods on just about every level."
The Rauner-Pritzker battle is shaping up to be the most expensive race for governor in U.S. history, with well more than $100 million already invested, much of it from the personal checkbooks of the candidates themselves.
The day's other star was Erika Harold, the Harvard-educated Champaign lawyer who's seeking the open attorney general's post against Democratic state Sen. Kwame Raoul of Chicago. Harold, Miss America 2003, and Rauner continued the claim that four-term incumbent Democratic Attorney General Lisa Madigan decided not to seek re-election only after Harold announced her bid last fall. They criticized Raoul for suggesting at the time that Madigan would have "acquitted herself well against Miss America." Raoul later apologized for the characterization.
Harold promised a "fight" to reform workers' compensation laws she says are driving businesses out of state, an unfair property-tax system and a criminal justice system that "squanders tax dollars."
"This will be a tough fight, but as Sen. Raoul will find out, I may be Miss America, but I am not Miss Congeniality," Harold said. "I am the fighter that you need to provide balance in Springfield and I am the fighter that you need to help move our party forward as we reform this state."
Raoul spokeswoman Aviva Bowen countered that "Kwame has been fighting to protect our communities and children for his entire career" and noted that Harold did not mention "her extreme beliefs, including making abortion illegal."