Green Beret returns to full duty after losing arm in Afghanistan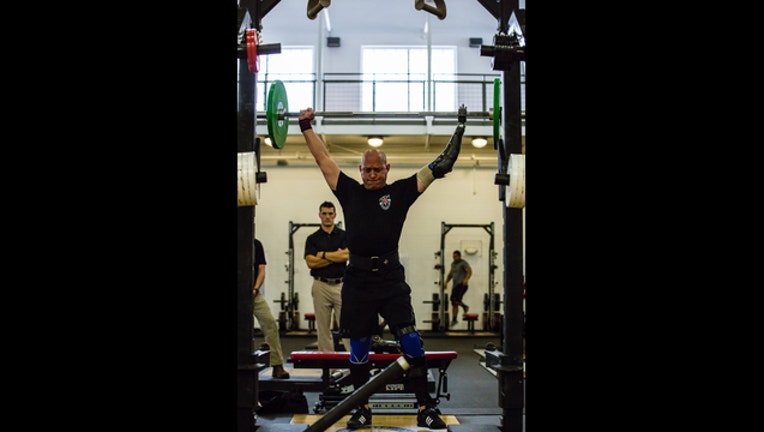 article
A Green Beret returned to full active duty service more than two years after his hand was amputated stemming from a vehicle roll-over in Afghanistan. Sgt. 1st Class Ivan Morera, a Special Forces medic, will continue to serve with the 7th Special Forces Group.
Army.mil described the incident that caused Morera's injury: In August 2013, an insurgent on a motorcycle drove up to the front-left tire of the MRAP All-Terrain Vehicle that Morera was driving. Aware of intelligence reports stating insurgents were employing suicide bombers on motorcycles, Morera swerved to avoid the attacker. The insurgent pursued Morera's vehicle, even as he swerved multiple times. The final time Morera swerved, the vehicle went off the road. When he over-corrected to return to the road, the vehicle began to roll over. While the vehicle flipped, the driver's side door next to Morera broke off its hinges and combat lock.
"I woke up and noticed my hand had been crushed. I called out for my team sergeant. He unstrapped himself and put a tourniquet on my arm," said Morera recalling the aftermath of the roll-over. "He called over my junior medic who put an additional tourniquet on and they had to complete the amputation in order to pull me out of the vehicle."
In addition to the loss of his hand and lower arm, Morera suffered severe damage to his shoulder and knee. He called on his faith and family to help him on the long, arduous recovery process.
--------------------
This month, he passed a major milestone when he conducted his first static-line parachute jump since being wounded. He and a team of experts are looking into studying jumps with prosthetics and specialized gear. Morera had advice for other members of the Special Forces community who've suffered life-changing wounds.
"Continue to move forward. Don't let your situation define who you are. Don't let your situation stop you from your goals. Everything and anything is possible with faith and determination."