Hawaii emergency officials say ballistic missile threat alert was a mistake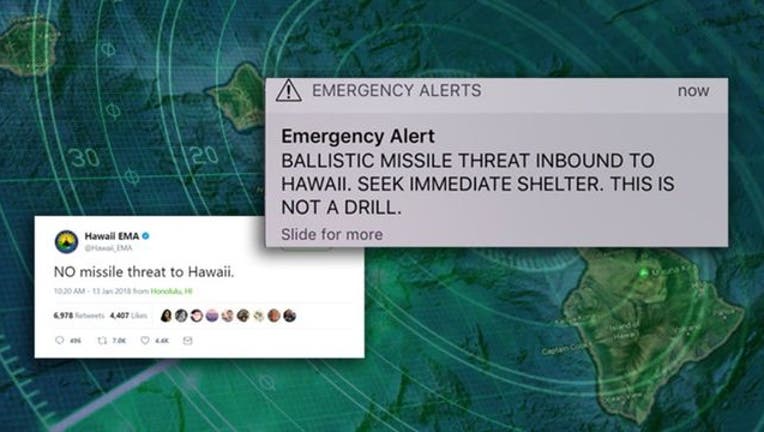 article
(FoxNews.com) - Hawaii emergency officials confirmed Saturday an alert that a ballistic missile was inbound to the island was a mistake, apparently caused by someone pushing a wrong button.
Earlier Saturday, Hawaiian citizens reported receiving an emergency alert on their phone that stated: "BALLISTIC MISSILE THREAT INBOUND TO HAWAII. SEEK IMMEDIATE SHELTER. THIS IS NOT A DRILL."
Later Saturday, Hawaii Emergency Management spokesman said someone accidentally triggered the cellphone and TV alert by pushing the wrong button during a shift change, according to the Washington Post.
House Rep. Tulsi Gabbard, D-Hawaii, tweeted in regard to the alert: "HAWAII – THIS IS A FALSE ALARM. THERE IS NO INCOMING MISSILE TO HAWAII. I HAVE CONFIRMED WITH OFFICIALS THERE IS NO INCOMING MISSILE."
Hawaii Emergency Management Agency tweeted that there was "NO missile threat" to the state. 
The alert stirred a panic for residents on the island and across social media. 
Fox News' Chad Pergram said he spoke to two people on the Kona side of the island who said they were told to stay in their room and that there was a missile incoming. 
Cdr. Dave Benham, a spokesman for U.S. Pacific Command, told Fox News they have "detected no ballistic missile threat to Hawaii. Earlier message was sent in error. State of Hawaii will send out a correction message as soon as possible."
Sen. Brian Schatz, D-Hawaii, tweeted "it was a false alarm based on human error. There is nothing more important to Hawaii than professionalizing and fool-proofing this process."
Schatz wrote in a separate tweet that the what happened was "totally inexcusable." 
"The whole state was terrified. There needs to be tough and quick accountability and a fixed process," the senator wrote.
This is a developing story. Check back for updates.
More on FoxNews.com.