Hope of Illinois budget agreement before deadline dims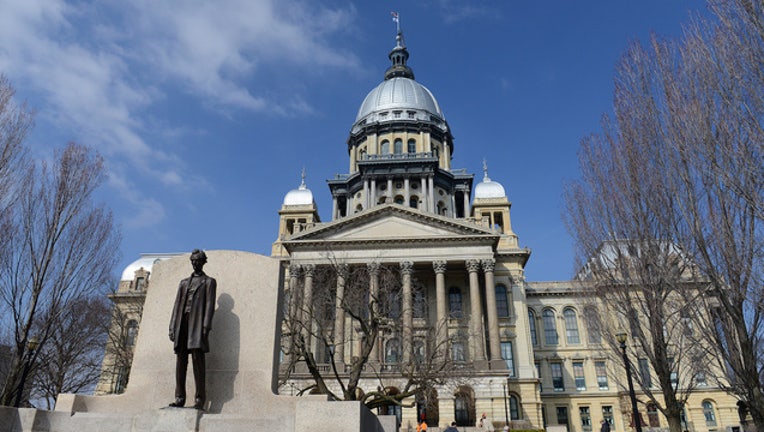 article
SPRINGFIELD, Ill. (AP) - Illinois lawmakers signaled Monday they won't have a budget deal before a key deadline, leaving the state hurtling toward another fiscal year without a spending plan and bringing further uncertainty to public schools, colleges, and social services providers.
Leaders from both parties met with Republican Gov. Bruce Rauner on Monday in another attempt at compromise, exiting his office to deliver remarks that all but guaranteed they won't find agreement before they adjourn their spring session Tuesday night.
"The bottom line for the taxpayers of Illinois is that as of tomorrow there will be no balanced budget," said Republican Senate Leader Christine Radogno.
The meeting happened just moments after Democrats showed their force by overriding a Rauner veto on a proposal to lower Chicago's pension payments for police and firefighters.
Lawmakers can still pass a budget after Tuesday, but it will be a heavy lift requiring three-fifths support from each chamber in what's expected to be a bruising election year. A budget passed before the deadline would need only a simple majority.
Democratic House Speaker Michael Madigan said after the meeting there was a "good exchange of ideas," the brightest outlook he's given yet after a discussion with Republican leaders and the governor in recent weeks.
But even though he reported progress from legislative working groups trying to get a budget compromise, Madigan said the House is prepared to continue working through June.
"If there's no agreement tomorrow night, I would ask the governor to keep his working groups functioning on a regular schedule because the House is going to ... schedule ourselves to be here every Wednesday through June starting next week," Madigan said.
His chamber has already passed a budget that Rauner has said he'll veto if it passes the Senate because it is $7 billion out of balance. By the Democrats' design, that $40 billion spending plan includes funding for schools in an attempt to force Rauner's hand; a veto would allow them to blame the governor if schools can't open this fall.
The 11-month budget standoff on a budget that should've taken effect July 1 makes Illinois the only state in the country without a budget for the current fiscal year.
Already, that's forced colleges and universities to lay off staff and decimated social service programs across the state.
About 90 percent of state's spending is on autopilot because of court orders requiring funds for crucial services such as Medicaid and salaries for state workers. But those decrees don't cover higher education institutions and some social service providers.
Tim Nuding, Rauner's budget chief, last week warned of "devastating" consequences if the budget gridlock extends into another fiscal year. Illinois already has the lowest credit rating of any state and could face another downgrade, which would increase taxpayers' cost with any borrowing, Nuding said.
Rauner and Democrats are clashing over the first-term governor's business-friendly agenda that curbs union power. Democrats say those issues should be set aside until a $5 billion deficit is addressed through a tax increase and spending cuts.
But Rauner won't sign off on a tax increase without getting some of his demands, saying taxpayers should be assured that lawmakers are putting changes in place to grow the state's economy.
With neither side budging, a high-stakes November showdown is becoming inevitable.
Rauner wants to chip away at the Democratic majorities in each chamber to make it harder for them to impose their will at the Capitol. At the same time, Democrats will try to add more seats to their supermajorities so they can override any future Rauner vetoes and clear the way for them to pass whatever budget they want.
Jim Durkin, the Republican House leader, said Rauner's fight with Democrats can extend beyond this year's election into his re-election campaign, when Democrats try to retake the governor's office.
"I think it's more about the 2018 election," he said.