House GOP leader proposes plan to speed Thompson Center sale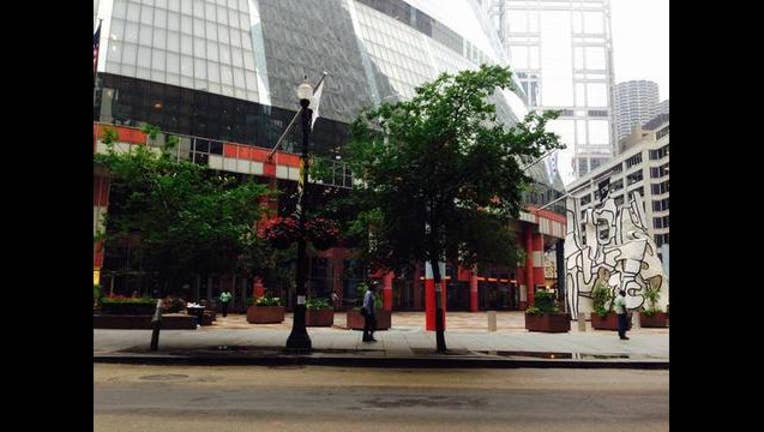 article
CHICAGO (AP) — Plans to speed up the sale of the state-government owned James R. Thompson Center, and potentially avoid a lengthy public comment period, have been submitted at Gov. Bruce Rauner's request, House Republican Leader Jim Durkin said Thursday.
Earlier this week the GOP governor announced intentions to sell the 16-story downtown Chicago building he called a "wasteful" use of government resources requiring roughly $100 million in maintenance. Rauner said his plan was to move roughly 2,200 state employees to offices nearby or in Springfield and put the building up for public auction within a year.
Legislation proposed Wednesday by Durkin also detailed options to sell or lease through a sealed competitive bidding process or launch a public-private partnership. The proposal also alters how appraisals are used and allows Rauner to skip requirements that the building first be available for sale to other public entities like the city.
The route targeting a state property control law, over one pertaining to closures, could also let Rauner bypass a feedback process with a 30-day public comment period. Already, concerns about potentially razing the facility have emerged among architectural experts who say the glass half-dome design by famed architect Helmut Jahn is a unique city landmark. Critics highlighted duct tape patches on carpets, old wiring and said the building's massive atrium isn't a wise use of space.
Durkin said the bill will get public discussion in Springfield.
"I'm not sure what a public hearing is going to accomplish. This is something that has been considered by different administrations," he said of the sale. "It just doesn't fit the needs of the state."
Rauner's administration said the proposed changes equal better value. State law says an average of three appraisals must be used to determine fair market value. Instead, the proposal says the highest appraisal can be used to set the minimum auction price, though the plan also allows a lower price to bidders attempting the sealed competitive process.
Democrats were skeptical of the sale plans, which come as Rauner and legislative Democrats are at an impasse over the state budget.
Steve Brown, House Speaker Michael Madigan's spokesman, said Rauner didn't offer enough details in Tuesday's initial announcement.
No specifics have been announced on where employees will go, including those working for statewide elected officers in the building. There's also the unanswered question of how a sale will impact commuters. The Thompson Center is connected to a busy Chicago Transit Authority hub and underground pedestrian tunnel.
"I'm not sure rushing is a good idea," Brown told the Springfield bureau of Lee Enterprises newspapers (http://bit.ly/1KaKYdZ). "Usually when you rush things, that's when you make mistakes,"
Similar legislation was filed in the Senate, according to Senate Republican Leader Christine Radogno. In a joint statement with Durkin late Thursday, she said the plans will help "review all our options to maximize the overall value of the property."
Senate President John Cullerton's office has said they'll review plans in light of state property control and closure laws.
__
The bills are HB4313 and SB2187.
__
Follow Sophia Tareen at http://twitter.com/sophiatareen .