Hundreds of thousands protest Trump at women's marches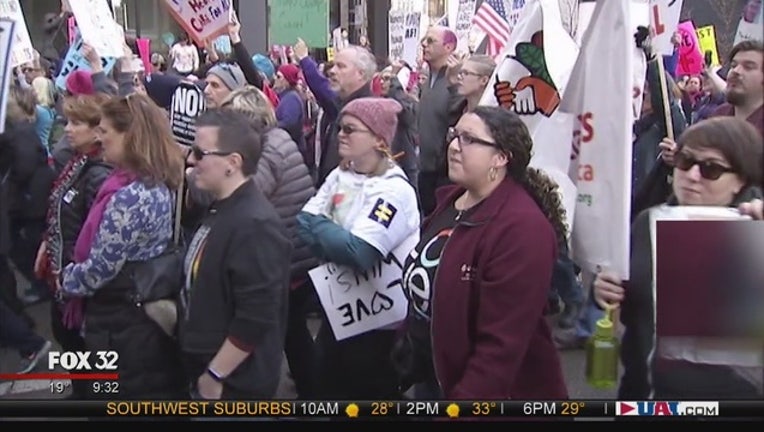 article
A few hundred thousand people filled the streets of downtown Chicago, Saturday, after first gathering at Grant Park for the second annual Women's March, started last year on the day of the inauguration of President Donald Trump.
Organizers estimated 300,000 people participated. They said 250,00 people participated last year as marches took place in cities across the country in protest to Trump's presidency.
Lilly Dean, a 19-year-old college student, said she was concerned because many issues central to women's rights are spotlighted, sometimes negatively, on a daily basis.
"Every day there's something different that's going on in the news and it's really upsetting, but when you see all these people here come together, it gives me hope," Dean said.
The march, Saturday, came exactly one year after Trump's inauguration, and coincided with marches taking place from New York to Los Angeles, and in 250 other U.S. cities, the New York Times reported.
While not necessarily anti-Trump, many of the sentiments expressed during the event take aim at the president's words and policies on women, and come amid the online #MeToo movement. 
Nineteen women have accused president Trump of sexual misconduct, ranging from lewd remarks to groping and harassment.
The Wall Street Journal reported this month that President Trump's personal lawyer paid an adult film star before the 2016 election to remain silent about an alleged affair between the two in 2006.
"How come we're not holding our president accountable?" Dean said.
At Grant Park, participants listened to impassioned speeches from elected female officials, including Illinois Attorney General Lisa Madigan.
Known as "March to the Polls," part of the goal of the event was to turn a movement into votes, with some feeling momentum was in their favor.
"When they want to deport children and DREAMERS from the only home they've ever known, there's only one answer," said one speaker, referring to immigrants brought to the United States, illegally, as children. She believed the answer was to "elect more women."