Illinois budget still elusive as leaders lash out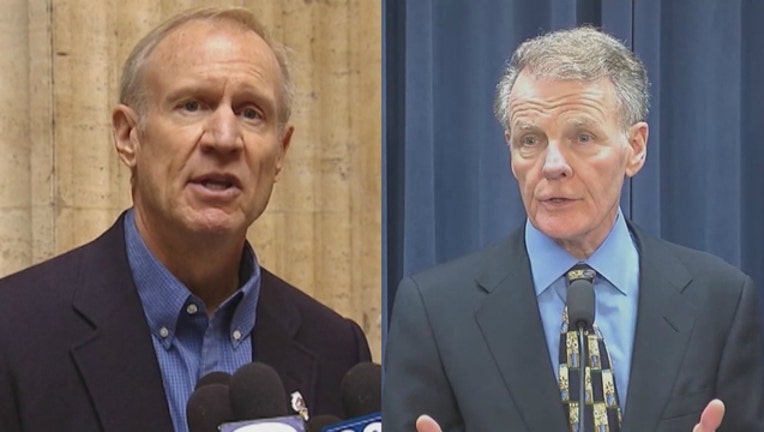 CHICAGO (AP) — As Illinois remains without a budget, legislative leaders and Republican Gov. Bruce Rauner are succeeding more at frustrating each other than at striking a deal to end an 18-month budget impasse that is damaging the state's fiscal health every day.
The relationship between ruling Democrats, Republican leaders, and the governor has only grown more toxic after several meetings where both sides are more likely to lash out at each other than to report meaningful progress in passing a full budget that's been overdue since July 1, 2015. The finger-pointing gives little hope legislative leaders can get a budget done by year's end when a six-month partial spending plan expires, leaving some social service providers struggling to stay open, and colleges and universities facing an uncertain future.
Democratic House Speaker Michael Madigan, who has ruled the state party for over three decades, has become the Republicans' favorite target for attacks, even as they try to get him to capitulate to Rauner's conditions for a budget.
Last week, after Madigan cited a scheduling conflict for missing a negotiating session, the Illinois Republican Party launched a "Boss Madigan" website criticizing his tenure as the country's longest-serving state House speaker and highlighting lawmakers loyal to him to pressure them to break ranks with their leader. Republicans have also urged House Democrats not to support Madigan for another term as speaker next month.
After emerging from a 90-minute leaders' meeting Tuesday, Madigan said he didn't know if the rhetoric was impacting closed-door discussions. He described the tone as "respectful," though minutes later accused former venture capitalist Rauner of holding the budget hostage "to help his wealthy friends and large corporations." He didn't elaborate.
"It's not affecting me," he said of the website critical of his leadership. "I'm speaker of the House. I'm a candidate for re-election. It is unusual that one party would come across and get themselves involved in a leadership election."
Republicans said their campaign was just part of being in politics.
"There's always going to be political chatter going on," said Senate Republican Leader Christine Radogno. "It should not impact these discussions."
Democratic Senate President John Cullerton went a step further, accusing Republicans of getting a jump start on the 2018 gubernatorial election. Rauner plans to seek a second term.
"I don't think it's helpful to start the election cycle for 2018 when we're still worrying about fiscal year 2017," Cullerton told reporters Tuesday. "The election occurred a few weeks ago, could we just legislate for a while?"
Rauner, who has used his vast wealth to fund the state party, proved last month to Democrats his fortune can go a long way toward defeating their incumbents: Democrats lost four House lawmakers and their supermajority on Election Day.
Even so, Rauner has called on both sides to "tone down the rhetoric."
"Heated rhetoric doesn't help. Getting emotional doesn't help. Pointing fingers doesn't help," he said Friday.
Not backing down, Madigan sent Rauner list of demands for future budget negotiations, including having "memorandums of understanding" for past and future budget agreements — a sign of the growing distrust between the Democratic leader and the governor. Madigan called for memorandums of understanding during the administration of former Gov. Rod Blagojevich because he didn't trust him to keep his word on spending agreements.
Madigan also asked Rauner for a list of topics to talk about the budget "to facilitate a real conversation," referring to recent meetings with the governor as "superficial discussions."
The crux of the disagreement over a budget has remained the same. Rauner is insisting that Democrats pass parts of his agenda, including passing pro-business legislation, freezing property taxes, and considering term limits among other things. But Democratic leaders have said Rauner should drop his demands and focus only on a state budget without pre-conditions.
Meanwhile, Illinois is more than five months behind in paying debtors and every month the state is increasing its more than $5 billion deficit because spending for government employees and crucial services like Medicaid is on autopilot.
___
Associated Press writer Sophia Tareen contributed.