Illinois Democrats, GOP remain far apart in budget talks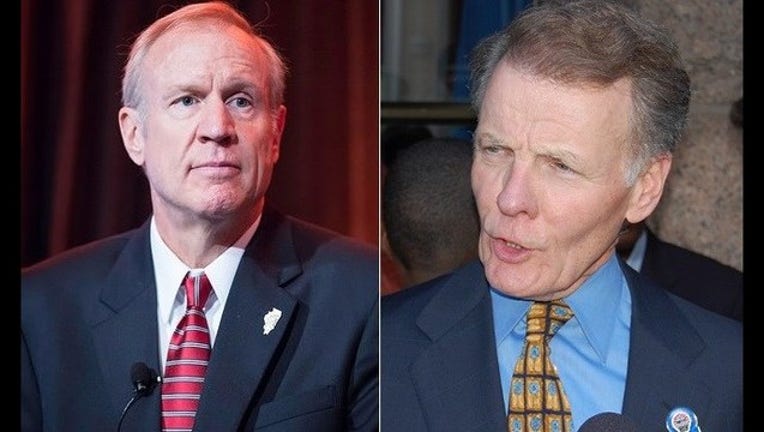 article
SPRINGFIELD, Ill. (AP) — Illinois House Speaker Michael Madigan suggested Tuesday that legislators should approve another short-term spending plan without giving in to any of Republican Gov. Bruce Rauner's demands, indicating the ideological divide behind the state's epic budget stand persisted through the bruising election season.
The Democrat made the comments after meeting with Rauner and other GOP leaders for the first time since Election Day, when the Republicans picked up enough seats in the state House to leave Democrats four votes shy of the supermajority they'd need to override the governor's vetoes.
The Democrats lost two Senate seats but still have a veto-proof majority in that chamber.
Responding to Madigan's comments, Republican leaders said they won't agree to another partial spending plan and that Rauner's call for business-friendly, union-weakening measures needs to be part of the discussions. Rauner also wants lawmakers to consider term limits and changing how legislative districts are drawn.
Madigan said the meeting was respectful, but he made clear that the only way he'll agree to a spending plan is if Rauner sets aside his demands, pointing to previous partial budget agreements that didn't include the governor's agenda items.
"If we use the same framework, the odds are we'll get a budget to finish off this fiscal year," Madigan said.
Illinois currently has a six-month spending plan that will last through December, and what Madigan is proposing would take the state through next June.
The 16-month inability to agree on a full budget has crippled social service programs and higher education institutions. Illinois is also incurring debt because it is shelling out more in court-ordered spending than it is collecting in taxes.
"I wish there was a greater sense of urgency from the Democratic leaders," said Rep. Jim Durkin, the Republican House leader.
Madigan told reporters that he will appoint Democratic Rep. Greg Harris to be the party's chief negotiator in budget discussions and that more appointments are coming. Republicans were taken aback, saying that wasn't mentioned in the meeting.
"We heard the speaker's comments and we're frankly confused by them," said Sen. Christine Radogno, the Republican Senate leader.
In the spring, both parties formed legislative groups to negotiate a budget and Radogno said it was her understanding that House and Senate leaders would use that as a starting point going forward, instead of starting the process again.
Rauner and legislative leaders are due to meet again Wednesday.
Lawmakers on Tuesday began their brief annual fall session, during which Democrats are expected try to overturn some of Rauner's vetoes.