Illinois newspapers tell Rauner, lawmakers 'Do Your Job'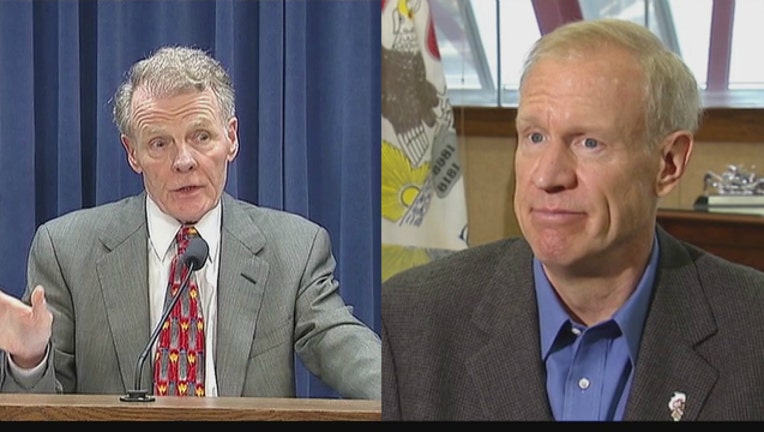 article
CHAMPAIGN, Ill. (AP) - Using blunt headlines such as "Enough" and "Do Your Job," about a dozen Illinois newspapers on Wednesday ran front-page opinion pieces demanding that the state's political leaders end the year-old budget stalemate.
The (Springfield) State Journal-Register, the Chicago Sun-Times and other newspapers published the editorials as lawmakers returned to the state capitol for a one-day session before the state enters a second fiscal year Friday without a spending plan. About 50 more newspapers ran similar pieces on their opinion pages,
Newspapers seldom, if ever, coordinate stances by their opinion editors, or use their front pages for opinion pieces. But Rosanne Cheeseman, interim publisher of the State Journal-Register, which coordinated the effort, said the editors hoped that speaking in unison would have a greater impact on political leaders.
"That voice becomes very, very powerful when we join together," said Cheeseman, who joined with State Journal-Register Executive Editor Angie Muhs in coming up with the idea. "We've heard from others that they don't feel our governor and legislators are listening anymore."
"We don't know if our outcry will produce sanity or simply more of what we've all become accustomed to — brash, self-righteous finger pointing in a never-ending game of assigning political blame and collecting political credit. But it's a start," Jim Slusher, who is an assistant managing editor at the Daily Herald in Arlington Heights, added in a note to readers urging them to contact their state representatives and senators.
Republican Gov. Bruce Rauner and the Democrats who control the General Assembly have been at odds over the budget for more than a year. Rauner, a venture capitalist elected in 2014, is holding out for business-friendly reforms he says will help the economy before agreeing to a budget that would close a spending deficit partly by raising taxes. Democratic leaders say his proposals would hurt middle-class families.
Lawmakers were negotiating Wednesday on a short-term budget deal to, among other things, keep public schools open this fall.
But a year without a budget has already hurt the state.
The Sun-Times in its editorial wrote : "As a result, to cite just a few examples of the damage done, drug addicts are not getting counseling, old people with dementia are not being cared for, rape victims are not getting help. State museums have been closed."
"The political war between Rauner and House Speaker Michael Madigan has been confounding and unconscionable," the State Journal-Register's editorial said. The newspaper used the whole front page for the editorial.