Illinois Senate skips planned budget vote, will return Thursday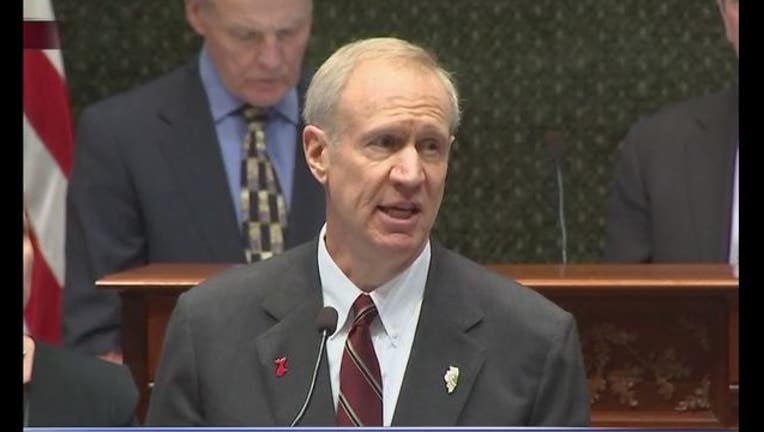 article
SPRINGFIELD, Ill. (AP) - Illinois senators, still grappling with the sticker shock of a tax increase and other far-reaching restructuring to end the nation's longest state budget deadlock, skipped a much-anticipated vote on the massive package and adjourned early Wednesday evening.
Senate President John Cullerton, a Chicago Democrat, and Senate Republican Leader Christine Radogno of Lemont, had set up Wednesday as decision day on their bipartisan plan to end the longest budget drought of any state since World War II. That plan includes new taxes to drive down a multibillion-dollar deficit while attempting to address Republican Gov. Bruce Rauner's demands for changes to ease the cost of business and crimp the influence of unions and politicians.
The Senate vote was to cap a big day at the Capitol. The Republican governor lauded the Senate's cooperation earlier Wednesday during his annual State of the State address to a joint session of the General Assembly.
"Please don't give up. Please keep working. The people of Illinois need you to succeed," Rauner said, going off script.
But after Democrats and Republicans met for more than three hours in private caucus meetings, lawmakers abruptly left, leaving Cullerton spokesman John Patterson to explain in a statement that talks continue and that the chamber would reconvene Thursday.
He would not venture a statement on whether there would be a vote on the Senate's final scheduled session day in January. Radogno promised swift action on the plan, certainly by month's end.
The stalemate began shortly after Rauner took office in 2015. He won't talk about how to tackle a multibillion-dollar deficit until Democrats consider business- and political-climate changes he says will boost the economy and restore voter confidence. Democrats have said the state should raise taxes and cut spending to get the deficit under control before addressing "non-budget" issues.
The Senate plan, notably, would increase the personal income tax 33 percent, from 3.75 percent to 4.99 percent. It would create a 5 percent excise tax on some services such as car repair and laundry.
But it also includes legislation to answer Rauner's concerns. They include a two-year freeze on local property taxes, cost-cutting restrictions on payouts for workers' compensation claims, streamlined state purchasing and an avenue for voters to eliminate unnecessary local governments.
In a Democratic response to the governor's speech, House Deputy Majority Leader Lou Lang, a Skokie Democrat, laid the financial suffering squarely at Rauner's feet.
"There are people across our state, including our most fragile citizens, whose lives are forever impacted because of the lack of a budget," Lang said. "If we have a repeat of the past two years there will be more people permanently harmed all across Illinois. We can all agree this should not be allowed to happen."
He said House Democrats would push an economic plan that cuts corporate income taxes while insuring all businesses pay some taxes, raising the minimum wage and ensuring other protections for middle class families, and reviving House Speaker Michael Madigan's idea of a surcharge tax on incomes over $1 million.
The Senate plan goes beyond spending for immediate government operations. It goes so far as to take on years-old problems facing the Prairie State - how to erase a $130 billion gap in what's needed to cover current and future retirees' pensions and a fairer way to fund public schools, although that bill doesn't have any explanatory language yet.
Cullerton and Radogno had hoped to strike fast, putting the Senate on record with a plan to bash the logjam early this month. When Republican senators balked, Radogno promised a vote before month's end. Skepticism about that timetable arose Tuesday when skittish lawmakers backed off taking a stand after public committee testimony.
___
Associated Press writer Sara Burnett contributed to this report.
___
Contact Political Writer John O'Connor at https://twitter.com/apoconnor . His work can be found at http://bigstory.ap.org/content/john-oconnor .