In passionate campaign, Illinois voters talk of gut emotions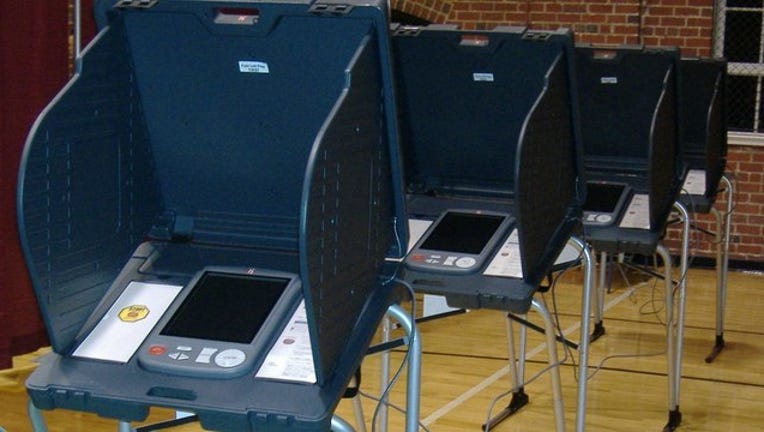 article
CHICAGO (AP) - In an unusually passionate campaign season, gut emotion propelled many Illinois voters to the polls Tuesday. While some defined issues in this race that were dear to them, they were quick to talk in more emotional strokes of trust, revulsion, anger and maturity.
Retired Chicago machine repairman Juan Araujo said he voted for Democratic U.S. Sen. Bernie Sanders because he "talks from the heart" and has Polish immigrant roots. He said he never would vote for Republican Donald Trump because - in his words - he's a "clown" who's not serious enough for the White House.
In the state capital, Trump supporter Gayle Swoik said she was drawn to the billionaire businessman - who ultimately won the state's GOP primary - because of his tough language on immigration and a sense that he'd be good to veterans like those in her family. But she acknowledged feeling fuzzy on the details.
"His policies are in transition," Swoik said.
On Chicago's heavily Democratic South Side, voters talked mostly of Hillary Clinton - who won the primary in her native state - and Sanders. But they also had their eyes on Trump, as they considered which candidate had the best shot at defeating the Republican front-runner in November should he win the GOP nomination.
Sharon Schaffer said she's praying that former Secretary of State Clinton can beat Trump if they end up facing each other. Trump's heated language on immigration and minorities has angered voters like her.
"I can't stand him," she said of Trump, joking that if he wins she'll leave the country. "I will go back to Africa - and I've never been," said the 65-year-old retiree.
Sheri Scott, a customer service worker and mother of three, voted for Sanders, saying she thinks the Vermont senator has a better shot against Trump because she believes he's more trustworthy than Clinton.
"I believe he's a genuine person with a good heart. I trust him," she said.
Illinois voters also chose Democratic U.S. Rep. Tammy Duckworth to vie in November for the U.S. Senate seat held by Republican Mark Kirk, who's seeking re-election, and weighed in on several congressional and Statehouse races. Also on the ballot was the Democratic primary for Cook County state's attorney - a race that saw incumbent Anita Alvarez ousted by challenger Kim Foxx after Alvarez's handling of the case of a white Chicago police officer who shot a black teenager 16 times drew national attention.
Election officials said interest seemed higher than usual, at least in Chicago, where a record number of people cast early primary ballots.
Chicago Board of Elections spokesman Jim Allen said the number of people asking for Republican ballots also increased from eight years ago, from around 6 percent of voters to just less than 10 percent this election. That's a possible sign of Democratic voters wanting to weigh in on the GOP presidential primary.
Penny Shank was among voters choosing that strategy. She celebrated her 69th birthday Tuesday by picking up a Republican ballot for the first time at Veterans of Foreign Wars hall in Springfield, Illinois, to vote against Trump and other Republican candidates whom she called Illinois Gov. Bruce Rauner's "cronies."
"I think there are a lot of Democrats who are crossing over just to do that," said Shank, who voted for Ohio Gov. John Kasich. "I think Trump is an absolute joke."
She objects to Trump's views on immigration and women's rights.
For Republican voters like Don O'Neal, of Springfield, it came down to choosing who he thought was the "least confrontational candidate." He voted for Kasich.
"He has the most practical experience in governing," he said. "He's acting like more of an adult than some of the others."
Here's a look at what some voters had to say:
___
When deciding which candidate to vote for, Eduardo De Jesus treated it like a job interview. He evaluated which candidate would continue the changes started by President Barack Obama and which candidate would take the nation "to the next step." On Tuesday, he made his choice at a polling station in Fort Lauderdale, Florida: Hillary Clinton.
Clinton is the only candidate who can work with Congress to get things done, he said.
"Hillary Clinton. She is the best prepared. She has done it," said De Jesus, a 56-year-old Navy veteran who currently is director of operations for a medical insurance company. "She has been there. She is the person that should replace Barack Obama."
Trump has been disrespectful to the election process, De Jesus said.
"My hope is that America can wake up and say, 'This is our process for democracy.' And this will come to pass," he said.
___
James Cantrell, a Republican from Columbus, Ohio, said he voted for Ted Cruz because the Texas senator is "the best constitutional conservative of the bunch" and the one who adhered to his views on taxes and illegal immigration.
"I can't stand (Florida Sen. Marco) Rubio, he's pro-immigrant. (Ohio Gov. John) Kasich has no backbone. He's so spineless he won't stand up to anything," said Cantrell, 52, who runs his own water-well drilling company. "I don't personally care for Trump. I would vote for him in the general election if that's my only choice, but I would rather have Cruz."
___
Sheri Scott, a 44-year-old divorced mother of three children, voted for Vermont Sen. Bernie Sanders at her precinct in Chicago because she said he seems more trustworthy than Clinton. That trustworthiness gives him a better chance than Clinton of winning against a Republican in the general election, she said.
"I believe he's a genuine person with a good heart. I trust him," said Scott, a customer service worker. "I don't trust her as much. I will vote for her if she makes the nomination."
___
Ross Nichols, a 64-year-old retiree voting in Tallahassee, Florida, said he had planned on voting for Ben Carson until his wife persuaded him to switch over to Trump. Nichols joked that "Ben wouldn't keep his eyes open" during the debates.
His wife, Elvira Nichols, is a naturalized citizen who moved to the United States from Colombia 18 years ago. Elvira Nichols, 60, said she did a lot of research and decided to back Trump. "I believe he's a leader" and that he has shown it through his business accomplishments, she said.
Nichols said she feels that illegal immigrants get "free schools" and "free benefits" while "my husband has been struggling."
"I think it's not fair," Nichols said.
___
Albert Griggs voted for Clinton at a church on Chicago's South Side. The 48-year-old mechanic who is married with two kids said he thinks Clinton has a better chance than Sanders if Trump is the eventual Republican nominee.
"Hillary is going to have the women behind her. Young voters will vote for her," Griggs said.
Griggs also thinks Clinton's husband, Bill, did a good job as president in the 1990s.
"She is his wife. I think she should follow suit. She is more down-to-earth, a people person," Griggs said. "She's not trying to pull the race card or start animosity among the people in the United States."
___
Cruz got 65-year-old Lois Saad's vote, even though the Republican from Columbus, Ohio, couldn't make up her mind between the Texas senator and Trump for the longest time. Her top priority was limiting the size and scope of government.
"Cruz has a proven record. I was on the fence, honestly, between Cruz and Trump. Reason is, Trump because he's not a paid politician and the American people are leaning more toward they're sick and tired of politicians," said Saad, a quality manager for a logistics company. "But Ted Cruz has a proven record and in what he has done and what he has completed, he is a true conservative who walks the walk and talks the talk."
___
North Carolina State University student Elijah Morgan is not registered as a Democrat or Republican, but he voted for Rubio.
"I don't love him as much as I'd like to. You know, like, if the bar for candidate that I'd like to vote for is up here, Rubio's here and everybody else is much below that," said the 21-year-old electrical engineering student in Raleigh, North Carolina. "So he's not my picture-perfect candidate."
Morgan said he's hoping for a contested GOP convention this summer.
"I would prefer that outcome over Cruz or Trump," he said. "I don't really like Cruz. I think he's dishonest. Smarmy, kind of ... I think that (Trump) stands for everything I stand against.
___
Tom and Cathy Lewis cast their votes for Kasich, who lives in their hometown of Westerville, Ohio. Beyond feeling a hometown connection to the Ohio governor, the couple said they were looking for a candidate with integrity and someone they can trust. Cathy Lewis said she likes that Kasich is "presenting the truth" about Donald Trump. Kasich has in recent days criticized Trump for creating a "toxic environment" in the Republican race.
"We need to have a man who will speak against things that are wrong," she said.
___
Sheila Green is a financial specialist at the College Foundation of North Carolina who works with students who want to go to college. She said she thinks Sanders is doing a disservice by leading students to believe they can attend for free. Green, 55, voted for Clinton at her polling station in Raleigh. She doesn't think Sanders' plan for free tuition would work or get through Congress.
"It's not going to happen," she said.
___
On the west side of Columbus, Ohio, Vietnam veteran and registered Democrat William McMillen said he voted for Trump, even though the candidate is a Republican.
McMillen, 70, a part-time warehouse worker, said he is concerned about the country's economic direction.
"He's a businessman," McMillen said. "America is a big business, and he could make money for us."