Indiana dune that swallowed boy to remain closed this summer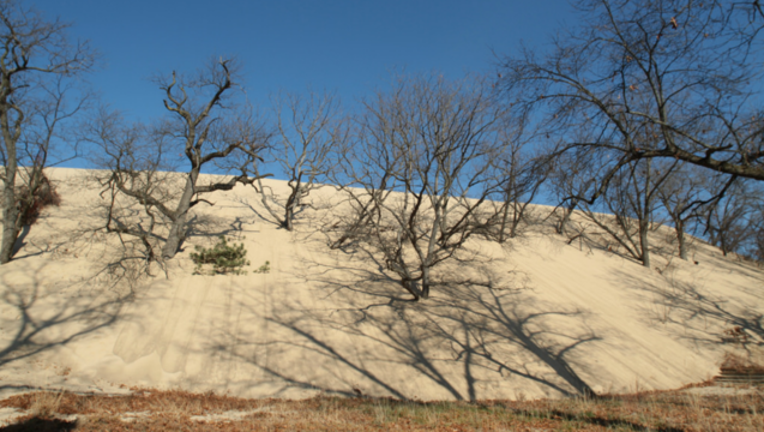 article
SOUTH BEND, Ind. (AP) - A popular sand dune along Lake Michigan in Indiana will remain closed this summer as scientists try to determine why a 6-year-old boy was nearly buried alive there three years ago, an Indiana Dunes National Lakeshore spokesman said Monday.
Scientists have been studying Mount Baldy, a 120-foot-tall dune near Michigan City, since July 12, 2013, when Nathan Woessner was buried alive for more than three hours under 11 feet of sand. Nathan, of Sterling, Illinois, was hospitalized for about two weeks, but recovered.
Park spokesman Bruce Rowe said he hasn't received a preliminary report on possible causes and that the park service would wait until the studies are complete before releasing any information. He expects the work to continue until fall.
"So whatever we say will turn out to be accurate, or as accurate as science can tell us," he said.
Scientists have been using ground-penetrating radar to determine whether rotting trees or structures that had been covered by the moving dune were to blame.
Rowe said even if the scientists finish their work early, park officials will need time to determine what steps must be taken to ensure visitor safety. The rest of the 15,000 acres that stretch across 15 miles of Lake Michigan remain open.
"At this point I don't see any way that Mount Baldy will be open general access to the public this summer," he said.
Rowe said the number of people visiting the lakeshore has dropped since 2013, but that park officials don't know whether that is because Mount Baldy was closed or bad weather. The park is a 60-mile drive from Chicago.
The park had attendance of 1.64 million last year, up from 1.55 million in 2014, which was the lowest attendance figure since 1.48 million people visited the park in 1997. The park had 1.68 million visitors in 2013 and 1.89 million in 2012.