Johnson: Facebook sex assault 'absolutely horrific'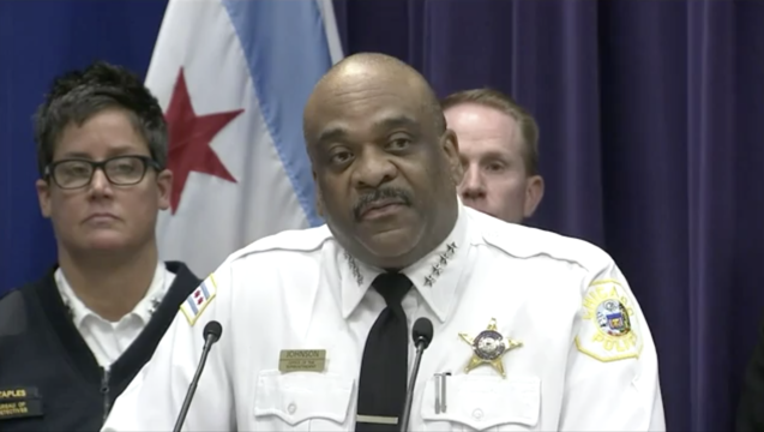 article
CHICAGO (Sun-Times Media Wire) - Chicago Police Supt. Eddie Johnson on Sunday announced the first of several expected arrests in a sexual assault of a 14-year-old girl that was broadcast on Facebook Live.
At a news conference, Johnson called the case "absolutely horrific," the Chicago Sun-Times is reporting.
"The young men responsible should be ashamed of themselves. They've humiliated themselves, humiliated their families, and now they're going to be held accountable for what they did," Johnson said.
A 14-year-old boy was arrested Saturday and is facing felony counts of aggravated criminal sexual assault, manufacturing of child pornography and dissemination of child pornography.
Chicago Police Cmdr. Brendan Deenihan said detectives, working with Facebook, executed several social media search warrants.
"We were able to eventually identify two of these offenders and secure arrest warrants," Dennihan said Sunday.
He said he expects a second juvenile to be arrested soon.
"We still have other offenders we need to specifically identify and arrest," Deenihan said, but wouldn't say how many others are likely to be arrested.
"At this point, the individuals involved know who they are and who was involved."
Deenihan said the girl "is having such a difficult time even communicating just what occurred to her." He said the online bullying that happened after the assault made it that much harder on the girl.
"It was a very difficult case for all of the people involved," Deenihan
said.
Johnson was leaving a West Side police station on March 20 when the girl's mother stopped him and showed him images of her daughter being attacked by five or six people.
Johnson immediately walked with the woman into the 10th District police station in the Lawndale neighborhood and called his chief of detectives to gather a team of investigators to respond immediately, Guglielmi said. The department contacted Facebook to take down the video, which it did.
The girl disappeared the day before from Lawndale and initially was reported to police as a missing person.
The girl was found about 7:45 a.m. March 21 at the intersection of 16th and Independence by 10th District officers, police said. She was taken to Comer Children's Hospital and subsequently was reunited with her family. She and her mother are working with detectives, Guglielmi said.
As many as 40 people watched online as the girl was attacked, but none reported it to police, Johnson said.
The girl and her family received threats and she was taunted on social media as news of her assault came out, police said.
Guglielmi said in an email March 24 that the girl had been relocated to a "safe space."