Jurors award Michael Jordan $8.9 million in Dominick's lawsuit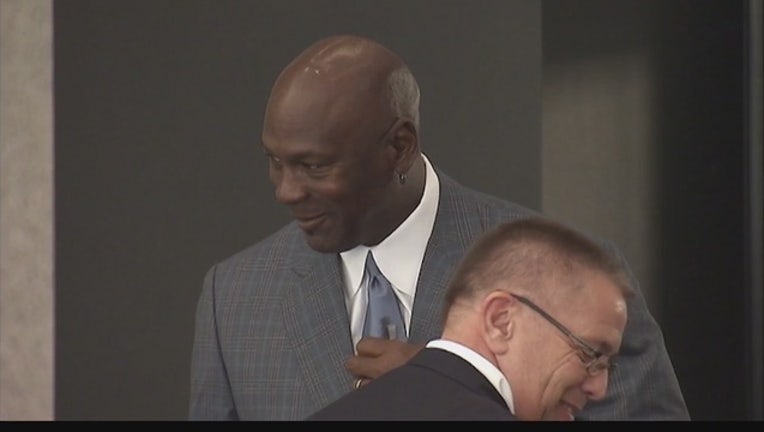 CHICAGO (Sun-Times Media Wire) - Jurors on Friday night awarded Michael Jordan $8.9 million in his lawsuit against Dominick's over the unauthorized use of his name in a congratulatory advertisement, the Chicago Sun-Times is reporting.
After the verdict was read, Jordan immediately broke out in his signature grin, and Frederick Sperling, his chief attorney, clasped and shook his hand, then got up, walked over and hugged the handful of attorneys making up the basketball star's legal team.
U.S. District John Robert Blakey had to admonish him to sit down so the proceedings could wrap up.
Jordan exited the courtroom all smiles, telling reporters he would speak with them upon exiting the building. With Sperling at his side, he walked out of the Dirksen Federal Building to a mob of media, microphones and fans who had gathered once they heard Jordan was in the building.
"I'm pleased with today's verdict. This was never about the money," he began.
"I want to thank my whole legal staff. They did a great job of presenting the case to the jury. I want to thank the jury for completely understanding from my point of view, and the right point of view," he said.
"This also shows that I will protect my name to the fullest, in the United States and all over the world, you know? It is my name. I worked hard for it for 30-something years, and I'm not just going to let someone take it. I will fight till the end," said Jordan.
"This is not one of the courts or type of court that I like to win at, you know? Obviously, I'm so used to playing on a different court, but unfortunately it ended up in this court and I'm very happy with the results."
To underscore his assertion that the case was never about money, Jordan said he intended to donate the winning to charities in Chicago.
"Once again, this was never about the money. It was about the principle of protecting my name and my likeness. This is where everything originated. So my plan is going to be to keep the money here, and give it to the charities that are in Chicago," he said.
That was not a recent decision. In a 2014 court filing, his attorneys had written: "Mr. Jordan is not seeking to enrich himself, but only to protect the value of the use of his identity, which he has created through his hard work and outstanding achievement. … Mr. Jordan intends to donate any recovery in excess of his costs to charity."
An attorney for Dominick's did not respond to a request to comment on the verdict.
Asked if he had ever actually tried the Rancher's Reserve steak that Dominick's used his image to promote, Jordan answered emphatically, "No. But I got a Michael Jordan Steakhouse here. You can go get a steak over there."
Jordan then told reporters, "Thank you guys for being patient. I really appreciate it."
He and his attorneys walked back into the courthouse.
"I'm just glad it's over," he said.
Jordan was going back inside because the judge had said he could exit through the security entrance.
"I don't want 1,400 people coming over to get an autograph, and I don't have enough security," Blakey had said before the verdict was announced. "So when it's over, we'll let you have a nice, clean exit."
While in the lobby, Jordan encountered some jurors who were leaving, and two of them walked over and asked if they could take a photo with him.
"Of course!" Jordan said. "And thank you for your hard work."
Jordan then was told his vehicle was actually coming around to the front of the building, so Jordan waited, then walked back outside. A handful of supporters and fans assembled outside the courthouse cheered and snapped pictures on cell phones as Jordan walked between barricades into a black SUV.
Later, in an issued statement, Jordan added: "No one — whether or not they're a public figure — should have to worry about their identity being used without their permission. I also hope the size of the monetary reward will deter others from using someone else's identity and believe they will only pay a small penalty."
Jurors had begun their deliberations about 12:30 p.m. They sent a note to the judge at 6:50 p.m., saying they had reached a verdict – and also apologizing for breaking one of their chairs.
The lawsuit against the grocer had gone to trial last week, marking the culmination of a five-year court battle.
During closing arguments earlier on Friday, jurors heard that Jordan made more money in 2014 in endorsements than he did playing professional basketball.
But that was only because he has a very precise plan for his image, Sperling had said in federal court Friday morning.
"It doesn't just happen by accident," Sperling said. "It happens by a carefully planned, carefully implemented marketing strategy."
Allowing supermarket chain Dominick's to use Jordan's name and jersey number in a one-time ad that appeared in a limited edition of Sports Illustrated magazine in 2009 was definitely not part of that plan, Sperling told jurors, as he delivered his closing argument in the case against the grocery store chain.
"Michael Jordan would never have agreed to that ad," Sperling said. "He doesn't do one-off ads."
Jordan's lawyers contend that Dominick's infringed on his brand when it used his name without his permission in the magazine.
Jurors were being asked to decide how much the "fair price" is to use Jordan's identity.
A judge earlier had found that Safeway, the parent company of the now-defunct Dominick's, violated the Illinois Right of Publicity Act.
Jordan's attorneys say each commercial use of Jordan's name is worth at least $10 million.
A lawyer for Safeway argued Friday that the use in the Sports Illustrated ad was worth only about $127,000.
"What we have here is an extremely limited use of Mr. Jordan's name and number," said Steven Mandell, the attorney representing Safeway.
Attorneys for both sides praised Jordan's accomplishments in the NBA.
"Mr. Jordan deserves every accolade he's received playing on the basketball court. No one can take that away from him — what he's given to the city of Chicago," Mandell said.
"Safeway is not running away from its responsibility for that ad."
But Mandell said Jordan and his advisers "seem to have lost their sense of fairness and common sense."
He said there's a big difference between a one-time ad with a "three-month shelf life" and a huge multi-year endorsement.
Sperling said Dominick's wanted a tiny "chip" of the "Hope Diamond" that is the Jordan name.
"It's not the way you want to buy it, but the way [Jordan] chooses to sell it," Sperling said.
Jordan still has other legal affairs to attend to in Chicago. The Jewel-Osco grocery chain also faces a lawsuit from Jordan after it published a congratulatory ad in the same commemorative Sports Illustrated issue as Dominick's. The Dominick's case could have repercussions for the Jewel case, which is set for trial in December.
The Jewel-Osco ad featured a pair of white and red sneakers with the number "23″ on the tongues. It called Jordan "a shoe in" and saluted "a fellow Chicagoan who was 'just around the corner' for so many years."
Though it featured the Jewel-Osco slogan and logo, it did not include any coupons.